Steven Seagal For Machete?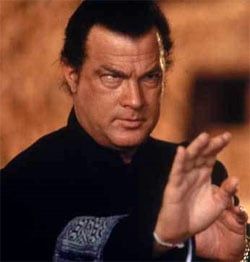 Robert Rodriguez is putting together one of the most eclectic and oddly matched casts ever for his Machete movie. He's already got Danny Trejo while Robert De Niro, Jonah Hill, and Michelle Rodriguez are rumored to be involved. You might think it can't get more mismatched than that, but Robert has other ideas so he put a call in to Steven Seagal.
Moviehole reports that Seagal is considering taking a part in the movie. The words his reps used it depends on "conditions", which could mean salary, weight loss, or Steven's busy schedule. Ok let's face it, it's probably not Steven's busy schedule. I'm going to check off the box marked weight loss.
Who would Seagal play? We don't know. What's Machete about? Cover your child's eyes and watch the trailer below to find out:
Your Daily Blend of Entertainment News
Thank you for signing up to CinemaBlend. You will receive a verification email shortly.
There was a problem. Please refresh the page and try again.