Steven Spielberg And J.J. Abrams Teaming Up For Sci-Fi Project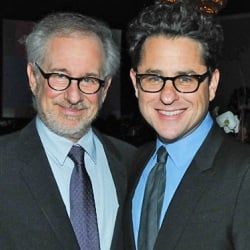 J.J. Abrams and Steven Spielberg already have a lot in common, as filmmakers with a mastery of telling stories through action and a deep, abiding love of sci-fi. Plus look at that photo to the right-- they have the same taste in glasses! Even though Spielberg's output lately (Indiana Jones 4) has been eclipsed by Abrams' titanic efforts (Star Trek, overseeing Lost and Fringe and Cloverfield and...), a collaboration between the two would be a dream come true-- and now it's actually happening.
Vulture (who also snagged that excellent photo above) reports that Abrams is working on a "super-secret" project for Paramount that's a tribute to Spielberg's films of the 70s and early 80s-- basically Jaws, E.T. and Close Encounters somehow rolled into one. Abrams is finishing the script now and is planning to direct it this fall, which would make it his next directing project and would set Star Trek 2 even more nebulously off in the future.
Apparently even the film's title is going to be kept secret, Cloverfield-style, but the story will focus on "everyday people whose personal relationships are tested when they are thrown up against the extraordinarily fantastic-- and possibly other-wordlly-- events." Spielberg's involvement isn't clear right now, but Abrams apparently wants him on board mostly so he can properly pay homage to the guy who inspired this film to begin with. Could Abrams seem like a more likable guy right now? I doubt it.
It's hard to even know what to say about this news other than "Yes, please." Abrams puts a human face on sci-fi better than any other director since Spielberg in his heyday, and the notion of Spielberg starting on a project with George Lucas far, far away is perfect as well. The one frustrating thing is that we won't be getting on details on this one for a long, long time-- damn that Abrams and his lockbox of a brain.
Your Daily Blend of Entertainment News
Staff Writer at CinemaBlend