Steven Spielberg Wants David Oyelowo For His Martin Luther King Jr. Biopic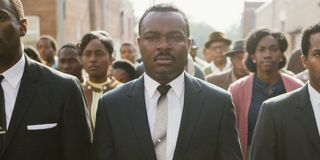 David Oyelowo might not have won the Oscar for his portrayal of Martin Luther King, Jr. in Selma -- heck, he didn't even get nominated -- but his performance wowed audiences. Even A-list director Steven Spielberg was blown away. In fact, Oyelowo recently revealed that the legendary filmmaker wants him to reprise his performance in Spielberg's long-gestating MLK biopic.
Speaking with Esquire, Oyelowo said that Spielberg approached him to express his desire to feature the actor in his film.
Back in 2009, Dreamworks Studios received the life rights to the civil rights figure and Spielberg has been attached to the still-untitled biopic ever since. According to the press release, it's the first film to receive the authorization of The King Estate and will utilize King's intellectual property to better portray the man on screen. Selma, on the other hand, did not utilize any of King's speeches. The Ava DuVernay film featured Oyelowo as King during the famous marches from Selma to Montgomery in Alabama that contributed to The Voting Rights Act of 1965.
When Selma as a whole essentially was snubbed by the Oscars, it caused a backlash from critics, moviegoers and the cast and crew. Oyelowo had been nominated for Best Actor at the Golden Globes, while DuVernay was nominated for Best Director, a category typically overpowered by white, male nominees. The film did win Best Original Song at the Oscars, thanks to the work from Common and John Legend, but the larger snubs, including for Best Picture, were bolstered by the political climate in the nation at the time. Protests incited by the deaths of African-American citizens like Michael Brown and Eric Garner were taking place when Selma opened, and the cast even wore "Black Lives Matter" t-shirts to a premiere for the film.
Despite all the film has done, David Oyelowo isn't too hasty to make a decision regarding Steven Spielberg's interest. Though he's extremely flattered by the comments, he's not sure about reprising his role, and another project, which he didn't name, already asked him to come back as MLK, and he declined. Oyelowo continued saying that he's proud of the work the production crew and the actors accomplished with this film and that it's time to let Selma stand on its own.
Your Daily Blend of Entertainment News