Sundance Review: Cold Souls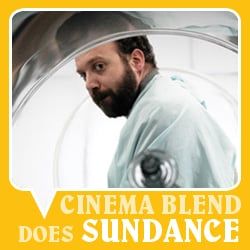 Is that pesky soul of yours getting in the way? Why not have it extracted? Then you can live your life free of remorse, guilt, compassion and all of the other natural human emotions that tend to weigh us down. This is the premise of Sophie Barthes film Cold Souls. It stars Paul Giamatti as an actor named Paul Giamatti. Paul is hard at work starring in a Russian play called "Uncle Vanya" when he finds himself on the verge of an emotional breakdown caused by role he's playing. On the advice of his agent, he checks out "Soul Storage," a private lab specializing in soul extraction and storage. Paul is unable to overlook the ridiculousness of such a procedure but his desperation gets the better of him and he decides to get his soul removed for a little while so that he can get through the play.
Naturally, things don't go entirely as planned. Paul does get his soul removed but his reaction to it isn't very helpful to his work or his marriage. His wife knows something's not right and he's virtually useless as an actor. He goes back to Soul Storage to rent the soul of a Russian Poet but when his body begins to reject the soul, he returns to the lab to get his own back . There's one little hitch though, Paul's soul has been stolen.
While this shiny, white lab on Roosevelt Island in New York City might be a legitimate operation, as far as soul-removal goes anyway, over in Russia there's soul-trafficking operation going on. One of the soul "mules" named Nina (Dina Korzun) stole Paul's soul for the aspiring actress wife of her boss. Soon Nina's life becomes intertwined with Paul's as she tries to help him reclaim his soul.
The concept is fairly ridiculous but that's exactly what makes it work. Having one's soul removed would be like the ultimate antidepressant but could a person really be happy without it? We see Paul go from tormented but amazingly talented actor and loving husband to an emotionless man who can only go through the motions of normal human behavior. There's humor and irony laced throughout the film, alllowing us to enjoy Paul's little adventure without really feeling the desire to note the improbability of such a procedure. In that sense, the film has a sort of Eternal Sunshine of the Spotless Mind quality to it.
Giamatti delivers his usual level of excellence. The man has that unique knack for making a viewer laugh while at the same time, also feel compassion for him. Much of the credit for my enjoyment of the film goes to Giamatti for the subtle humor he brings to the role. And speaking of humor, playing Dr. Flintstein, the soul extractor at Soul Storage, David Strathairn brings numerous laughs with his matter-of-fact attitude about the positive and negative side effects of soul extraction. Dina Korzun, as Nina does an excellent job of balancing the humor in the film with the emotional aspect of it. Korzun's character's remorse for what she does for a living not only as a soul trafficker but as someone who encourages people to sell their souls knowing they'll never be able to get them back comes through as the film progresses and serves to give the film a bit more depth.
One problem though: the ending. Obviously I'm not going to ruin it here but to be entirely honest, I wasn't sure what to make of it. Finale aside, Cold Souls was an enjoyable experience, well worth seeing for its quiet humor and for Giamatti's superb performance.
Assistant Managing Editor
Kelly joined CinemaBlend as a freelance TV news writer in 2006 and went on to serve as the site's TV Editor before moving over to other roles on the site. At present, she's an Assistant Managing Editor who spends much of her time brainstorming and editing feature content on the site.
Your Daily Blend of Entertainment News
Thank you for signing up to CinemaBlend. You will receive a verification email shortly.
There was a problem. Please refresh the page and try again.