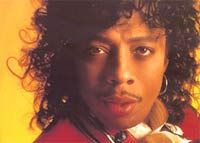 Anyone remember that weird story that went floating around before Dave Chappelle went crazy and ran off to Africa that had him playing Rick James in a dramatic movie about his life? Presumably when he abandoned America to live with wildebeests director Michelle Gondry gave up on doing it, which has left the door open for someone else to tackle James' life.
Variety says that Sheldon Turner, who wrote the remake of The Longest Yard, has been hired to write a script about the Chappelle parodied funk singer called, predictably, Super Freak. I bet it's super freaky. It was either that or I'm Rick James Bitch. I think they made the right choice.
Apparently Turner and partner/producer Jennifer Klein have been trying to get a Rick James project going since his death in 2004, when they got their hands on a 400 page memoir written by the musician. Before even attempting to write a script, they then went and locked down the rights to a lot of Rick James hits with his estate. Music would seem to be their priority, not story.
But there's plenty of the usual musician biopic bullet points to plug into a plot. Like all the others we've seen movies about recently, James battled legal problems and an addition to cocaine throughout his career. He lived a life of good times, sex, and wild parties with other famous musicians like Jim Morrison and Prince.
Your Daily Blend of Entertainment News
Thank you for signing up to CinemaBlend. You will receive a verification email shortly.
There was a problem. Please refresh the page and try again.