Supermodel Brooklyn Decker Joins Rihanna In The Battleship Cast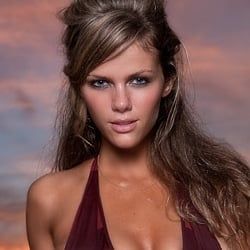 Friday Night Lights star Taylor Kitsch and True Blood's Alexander Skarsgard are leading the cast of Peter Berg's Battleship movie, but apparently that's enough "real" actors for one film. Just a few weeks after hiring RIhanna to make her acting debut, Berg has cast Victoria's Secret model Brooklyn Decker, according to Latino Review.
Decker is not to be confused with fellow Victoria's Secret model Rosie Huntington-Whiteley, who is starring in Transformers 3, though how we're supposed to tell the difference between these nubile blondes is beyond me. Also a Sports Illustrated cover model, Decker, has long been famous for her looks and her marriage to Andy Roddick, but lately has been making the transition into acting, with guest spots on Chuck and Royal Pains and a part in the upcoming romantic comedy Just Go With It.
I'm not sure if they didn't want to hire an experienced actress out of fear of making Rihanna look bad or if the female roles in this movie are really that inconsequential, but the fact that Battleship will star a pop star and a model probably tells us a lot about what to expect here. I guess if the explosions and alien special effects are good enough, we may at least not notice the leading ladies have no idea what they're doing-- hey, it worked for Megan Fox in Transformers.
Staff Writer at CinemaBlend
Your Daily Blend of Entertainment News
Thank you for signing up to CinemaBlend. You will receive a verification email shortly.
There was a problem. Please refresh the page and try again.