TIFF Review: Submarine Is Much More Than Just The Welsh Rushmore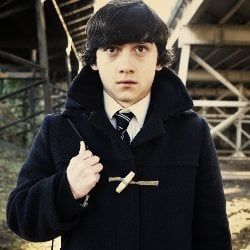 You're going to be hearing Submarine described often as "the Welsh Rushmore"-- it's even on the film's official TIFF site-- but I was actually relieved to find out that it wasn't. So many filmmakers have aped Wes Anderson's mannered, meticulous style to disastrous results, but Richard Ayoade has cribbed something much different, and much more worthwhile, from the khaki-clad American bard of young, pretentious men in love. Submarine is both saltier and sweeter than Anderson's work, and with its unusual Welsh setting and warm embrace of its conflicted protagonist, a totally delightful original.
At the center of Submarine's universe, in the way only a confused 15-year-old can be, is Oliver Tate (Craig Roberts), a gawkily ordinary boy who speculates about the consequences of his own death, explains in voiceover the precise social meaning of talking to a girl, and insists that he's worthy of having a film crew follow his own life. Even as his parents (Sally Hawkins and Noah Taylor) are drifting apart, Oliver embarks on his first relationship with Jordana (Yasmin Paige), a sharp-tongued bully of a girl who is more Oliver's partner in juvenile delinquency than your typical romantic heroine.
Using the bleak imagery of coastal Wales to great effect, Ayoade adapts Joe Dunthorne's novel with endless original touches, from Oliver's wry and funny voiceover to masterful shifts in tone, accommodating terminal illness and divorce near the third act with the same bracing humor found in Jordana and Oliver's budding relationship. The story veers too far into irony only with the character of Graham (Paddy Considine), Oliver's neighbor and his mother's old flame who is a self-styled ninja and spiritual guru. While Hawkins brings an odd, natural appeal to her cold character, Graham is pure parody, a joke of a human who doesn't fit into Submarine's only slightly tweaked world.
Given that this is Ayoade's first feature, though, the realism and heart he brings to the rest of the film is simply remarkable. Submarine was snapped up quickly for distribution by the Weinstein Company, who apparently are looking for a Fox Searchlight-style quirky hit to get the company back on its feet. With few recognizable stars and a dark sense of humor that takes some getting used to, Submarine will take some marketing legwork, but there's likely a huge audience for the film, those who have been looking since Rushmore for another similarly original and sincere comedic voice.
More Cinema Blend coverage from the 2010 Toronto International Film Festival right here.
Your Daily Blend of Entertainment News
Staff Writer at CinemaBlend