Taraji P. Henson Hits The Links In From The Rough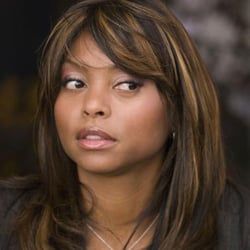 The news of Lucas Black and Robert Duvall re-teaming for the golf drama Seven Days in Utopia should be well received because we're really due for a new golf movie. Well, it looks like someone over at Gyre Entertainment was thinking the same thing because they've got a movie about the sport of their own on the way, From the Rough, and according to THR, it will star Taraji P. Henson.
The script comes for Michael A. Critelli and is a fictionalized retelling of the story of Dr. Catana Starks, the very first female head coach of an NCAA Division 1 men's golf team. Henson will play Starks, but go by a new name, Cassandra Turner. Turner starts out as a women's swim team coach at historically black college, but then ends up taking over the men's golf team. There isn't much talent at home base, so Turner scourers the world for new talent and eventually assembles a multi-racial crew. From the Rough will mark Pierre Bagley's feature directorial debut. Shooting kicks off in New Orleans in early October.
I don't know about this one. You can never go wrong with Henson, but the story just sounds too generic. Yes, it's a fantastic tale in reality, but on screen it could come across as just another against all odds triumph, something we've seen over and over again in sports films. I've got higher hopes for Black and Duvall's film, which is about a young golfer who blows a big chance, flees the crowds and winds up stranded in Utopia, Texas. That's where he meets an old rancher who helps him sort out his life. Okay, so neither is too original, but Henson is just no match for Black and Duvall as well as Deborah Ann Woll, Brian Geraghty and Melissa Leo. She better be getting some top-notch costars.
Your Daily Blend of Entertainment News
Staff Writer for CinemaBlend.
Your Daily Blend of Entertainment News
Thank you for signing up to CinemaBlend. You will receive a verification email shortly.
There was a problem. Please refresh the page and try again.