Terrence Malick Wants Natalie Portman And Brad Pitt For Jerry Lee Lewis Movie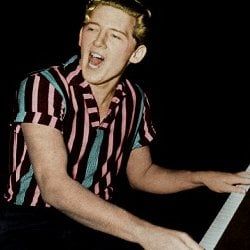 As if it weren't enough that she's earning rave festival for Black Swan and has been offered the lead role in Gravity as a result, Natalie Portman somehow has even more good news coming down the pike. In the same THR story that broke the Gravity news, they mention that one other than Terrence Malick has been in touch with been in touch with Portman after seeing Black Swan, and he wants her to star in a Jerry Lee Lewis film, of all things.
The Reporter calls the movie a "Jerry Lee Lewis-related project," so it's unclear if it's a biopic or something stranger, and also mentions that Malick wants Brad Pitt for the film as well. Malick's next film Tree of Life is still hovering somewhere between completion and a release date, with some speculating it could hit theaters before the end of the year, and recent rumors had it that Ben Affleck and Rachel Weisz would be shooting his next film soon in Oklahoma. Malick is notorious for taking his sweet time between projects-- he waited 20 years between Days of Heaven and The Thin Red Line-- so who knows why he's all of a sudden lining up one project after another, like he's Steven Soderbergh or something.
The still-living Jerry Lee Lewis is a fascinating topic for a film, of course, but already got his own biopic with 1989's Great Balls of Fire! I wouldn't expect Malick to go the traditional biopic route, but I really do wonder what he could be up to, and how he wants Pitt and Portman to fit in. Of course, it could be 10 years before we learn anything else about the project, so don't drive yourself too crazy waiting for answers.
Staff Writer at CinemaBlend
Your Daily Blend of Entertainment News
Thank you for signing up to CinemaBlend. You will receive a verification email shortly.
There was a problem. Please refresh the page and try again.