Will They Make Another Point Break Movie? Edgar Ramirez Has Thoughts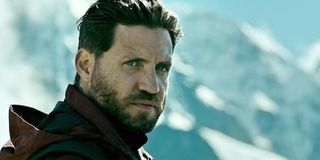 Remakes of cult favorite films are a dicey proposition. You want to honor what fans love about the original at the same time you bring something new to the table with your update, otherwise, what the hell is the point? Thus far, fans and critics of the new rehash of the 1991's bro-tastic surfing crime actioner Point Break have been underwhelmed by the latest incarnation, but at least one of the stars sounds sure that this won't be the last we see of Johnny Utah, Bodhi, and the rest of the skydiving bank robbers.
Before the movie opened on Christmas Day, Edgar Ramirez, who plays Bodhi, the character first brought to life by the late, great Patrick Swayze, talked with Variety about the remake and the future of the title. He said:
This is a curious statement, because it doesn't particularly sound like Ramirez is talking about sequels. And given the dismal box office showing (a current total of $58 million, with only $15 million of that coming from domestic markets, against a reported $105 million budget—though some estimates have been even higher), and a lackluster critical response, future adventures of Johnny Utah don't seem like they're in the cards.
What it sounds like Ramirez is talking about is future remakes of Point Break. This vague, almost philosophical musing is like something his character, a spiritual searcher on a quest to repay Mother Earth for all she's given us, might say to his young protégé. It'll be interesting to see if he's right. Hollywood loves a remake, but by all appearances this one is going to be a financial disaster for the studios, not to mention that it misses just about everything that fans love about the original, so they might be gun-shy.
If you haven't seen the new Point Break, and judging by the numbers, not many of you have, it basically follows the same plot as the original, only cranked up to the proverbial eleven. A young FBI Agent, Johnny Utah (Luke Bracey instead of Keanu Reeves this time around), hungry to prove himself, goes undercover with a gang of international criminals who just so happen to be extreme athletes, and gets in over his head thanks to the mysterious, charismatic leader, Bodhi. It's also the same basic plot to The Fast and the Furious, among others. This version tries to use massive spectacle level stunts as its main selling point, but even as impressive as those occasionally are, they can't save the movie.
Point Break is in theaters now. What do you think? Are you game for another remake? For a sequel? Or should they just leave well enough alone and call it a day?
Your Daily Blend of Entertainment News
Thank you for signing up to CinemaBlend. You will receive a verification email shortly.
There was a problem. Please refresh the page and try again.