Thomas Crown Affair 2 Next Year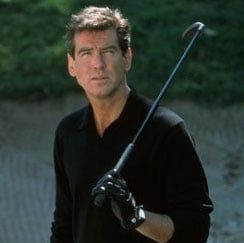 Now that he's proven that he absolutely cannot sing, Pierce Brosnan is keen to get back to doing some spying. Brosnan tells USA Today (opens in new tab) that he's starting work on a sequel to The Thomas Crown Affair. The Thomas Crown Affair 2 should hit theaters as soon as next year.
We've heard this was happening for awhile now, and Brosnan confirms that the sequel will, in part anyway, be based on the 1964 movie Topkapi, starring the great Peter Ustinov. In Brosnan's version he'll be chasing diamonds instead of paintings, and of course Peter Ustinov is dead. Though Brosnan is back for the sequel, Renee Russo is being left under whatever rock she crawled under after Showtime, and they're looking for a replacement. Start the Angelina Jolie casting rumors.
Paul Verhoeven, not John McTiernan is directing this one, so expect rape and severed limbs or something. Actually, it sounds like the only thing the sequel has in common with the first movie is the name, and Pierce Brosnan.
The real question for me is what the heck does Brosnan do when Thomas Crown 2 is over with. Thomas Crown 3? Because in the time between ditching Bond and doing this, he's rather adequately proven that he's spectacularly unsuited for anything which doesn't involve him wearing a tux and handling a gun. Thomas Crown will let him do that again, but how many Bond-like movies can he do before he runs out of road again? Thomas Crown needs to turn into a viable franchise, if only to save us from Brosnan's singing. You never should have left Bond Pierce, never should have left Bond.
Your Daily Blend of Entertainment News
Thank you for signing up to CinemaBlend. You will receive a verification email shortly.
There was a problem. Please refresh the page and try again.