Tom Cruise And Edge Of Tomorrow Director Are Making Another Sci-Fi Movie Together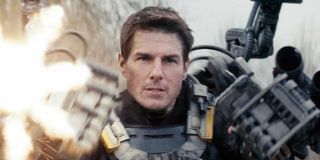 Tom Cruise and director Doug Liman found such unexpected success in the sci-fi space that they're looking to let the good times roll. After Edge of Tomorrow proved to be a sleeper hit of last summer, the leading man is now looking to join Luna Park, another genre film that's also been Liman's passion project for quite some time.
Variety was the first to report the news. According to the trade, Cruise, who portrayed the time-traveling Major William Cage in Edge of Tomorrow, is developing this sci-fi film with Liman for Paramount. But, of course, the actor is also looking to star in the project.
Luna Park has been in development for years. In 2007, the plan was to get this movie off the ground with Jake Gyllenhaal, though that eventually fell through. Then in 2011, Captain America actor Chris Evans and The Amazing Spider-Man's Andrew Garfield were eying lead roles in the film, and the studio even gave it an official go-ahead. The problem was Skydance Productions, which boarded Luna Park as financiers, backed out because the budget was going above $100 million. As a result, Paramount had to halt production.
Not too much is known about the plot of the film, but it centers around a group of renegades who travel to the moon in order to steal an energy source. Though Variety notes that it's unclear at this point whether Paramount and Skydance will back this project again, all signs point to this being a strong possibility.
Liman's Edge of Tomorrow focused on an alien invasion of Earth. After Cruise's Cage comes into contact with their blood, he's able to time travel as they do and relive the past day - an ability he uses to learn from his mistakes and finally kill these deadly creatures. The film proved to be a massive success for Warner Bros.; it was made on a $178 million budget, according to Box Office Mojo, and has currently raked in more than $369 million worldwide. Soon after, the pair reunited to make a drug cartel film called Mena, which is currently set for release on January 6, 2017. The fact that Cruise wants to work with him again is a testament to how well these two jive together.
Furthermore, Tom Cruise is still a proven draw for audiences. His latest turn in Mission: Impossible - Rogue Nation earned the studio approximately $512.5 million and counting. The studio already green lit a sixth film, which is scheduled to go before cameras next summer. Of course, that proposes its own set of complications in itself. Couple with Jack Reacher 2, which is currently scheduled for theaters on October 21, 2016, it's unclear when Cruise will find the time to work on Luna Park with Doug Liman.
Your Daily Blend of Entertainment News
Thank you for signing up to CinemaBlend. You will receive a verification email shortly.
There was a problem. Please refresh the page and try again.