Tom Hanks And Paul Greengrass's Captain Phillips To Open The New York Film Festival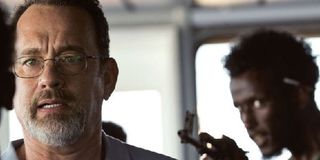 The fall film festival season often requires people to travel to far-flung locations to catch what might be the year's best movies, from Venice all the way in Italy to Telluride up in the Colorado mountains to Toronto, deep in the Canadian north (OK, it's across the lake from New York, but just go with it). But New Yorkers who want an early jump on the year's best films need only head to Lincoln Center for the annual New York Film Festival, which has just announced the first film in its inevitably starry lineup.
Captain Phillips, which pairs up Tom Hanks with the Bourne Supremacy and United 93 director Paul Greengrass, has been announced as the festival's opening night film, in a post at the Film Society of Lincoln Center website. It will be the second time Greengrass has had a film in the festival, after debuting Bloody Sunday there more than a decade ago-- it was the film that got him the Bourne Supremacy job, so you can see why he might have some sentimental affection for the NYFF. The new film, like Bloody Sunday, is also based on a gripping rap-life event, this one about the hijacking of the container ship Maersk Alabama by Somali pirates, and the efforts of the titular Captain Phillips to save his crew. Here's what the festival's programmer Kent Jones had to say about the film:
The first trailer for Captain Phillips, which debuted online back in May, gave us a pretty good look at how tough and tense the film will be; you can revisit it below:
It will make you crazy to think too much about awards season while it's still July, but Captain Phillips is still an obvious hopeful-- United 93 was a Best Picture nominee, after all, and any time Tom Hanks is giving a lead performance you can assume an Oscar campaign will follow. Weirdly enough, Hanks may wind up competing against himself, since his turn as Walt Disney in Saving Mr. Banks ought to be similarly attention-grabbing. Playing a real (beloved) famous person is the only thing more likely to get you an Oscar nomination than playing a real (heroic) non-famous person, so Hanks has both bases covered. We could start talking about which film might give Hanks the edge… but like we said, talking too seriously about this stuff in July is the road to madness.
But September will be here before we know it, and with it the New York Film Festival and the many great films it brings to it city. We'll have more on that festival's lineup as its announced, and plenty of coverage when things kick off this fall.
Staff Writer at CinemaBlend
Your Daily Blend of Entertainment News
Thank you for signing up to CinemaBlend. You will receive a verification email shortly.
There was a problem. Please refresh the page and try again.