Toy Story 4 Is Definitely Bringing Back At Least One Fan Favorite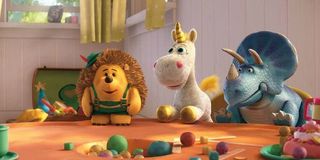 We're still rejoicing over the latest developments for Toy Story 4, as, over the weekend, we were informed that the hugely anticipated Pixar sequel will revolve around Woody's pursuit to find Bo-Peep. But since the Toy Story franchise is packed to the brim with characters that each of us adore with all of our hearts, we're also waiting to know which other figures will return. It's now been confirmed that one character who will indeed return alongside Woody and Bo-Beep is Trixe.
Kristen Schaal, who has voiced the blue plastic Triceratops in the likes of Toy Story 3, the trilogy of Toy Story Toons shorts, Toy Story Of Terror!, and Toy Story That Time Forgot, made this admission to me while we chatted about her upcoming turn as Mary Ellen in A Walk In The Woods.
After I quizzed her about any further updates regarding Toy Story 4, specifically whether Trixie will be back, Schaal confirmed her presence, but didn't add anything else. She proclaimed:
Kristen Schaal isn't the only person who is overjoyed to learn that she will once again grace the animated world with her voice. She's been a firm fan favorite ever since we first saw her tapping away on Bonnie's mother's computer in an attempt to help Woody get back to Andy's house.
At the end of Toy Story 3 we were then shown Trixie and Rex's introduction. In fact, they even cemented their friendship in a post-credits scene as they played a video game together. That wasn't the end of Trixie, though, because she has since appeared and delivered quips in each of the Toy Story shorts.
It was in Toy Story That Time Forgot where Trixie really came to the forefront. After attending a play-date with Bonnie's friend Mason, Trixie finds herself caught up in a cavalcade of mayhem. It's worth checking out if you can find access to it.
While Kristen Schaal is the first to confirm that she's returning for Toy Story 4, we can expect the likes of Tim Allen, Joan Cusack, Don Rickles, Wallace Shawn, John Ratzenberger, Estelle Harris, and Michael Keaton to reveal their own participation in the near future too.
Toy Story 4 will be released on June 16, 2017. Meanwhile, A Walk In The Woods, starring Robert Redford, Nick Nolte, Kristen Schaal, and Emma Thompson, is in cinemas on September 2.
Your Daily Blend of Entertainment News