Is Toy Story 4 Going To Feature Woody Or Buzz Lightyear?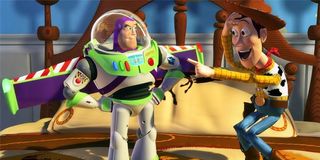 Most will agree that 2010's Toy Story 3 provided a deeply poetic final stamp on a great trilogy, and was as good of a series sendoff that anyone could have hoped. That hasn't stopped the progress of Toy Story 4 getting up and running over at Pixar. However, according to a recent statement from Pixar President Jim Morris, fans should not expect the upcoming fourquel to be direct follow-up to the last film. The studio head even implies that the film may not even feature the franchise's key protagonists, Woody or Buzz Lightyear! Have our favorite heroes finally left for the "beyond" by way of "infinity?"
In a recent interview with Disney Latino, Jim Morris provided an update on what we know of the prospective fourth Toy Story film, brandishing the now-established talking point that the film will be "a love story." The film is still very much in the developmental phase, but Morris did say with a degree of certainty that the film will not be directly continuing where things left off after Toy Story 3. According to Morris, (Via rough Google translation.)
And with that, you get the sense that the much discussed "love story" angle wasn't just a strategy at clever word play, misdirecting fans towards realizing that Toy Story 4 would focus on the young girl, Bonnie, who, at the end of the last film, was given all of the characters in Andy's toy box before he left for college. Such an idea would have only driven home the premise of a story that picked up right where we left off, only sans Andy. Morris' words seem to emphasize that this will not be the case. Thus, it could be a sign of bad news ahead for any fans holding out for another go with the repertory Toy Story crew, specifically, Woody and Buzz Lightyear.
This, of course, leads to numerous avenues of speculation regarding which characters would be shifted into the spotlight. Given the romance angle, maybe they're thinking of a Barbie & Ken spinoff. Of course, that might cause the toy company Mattel to demand a bigger piece of the heaping financial action (plus they are very much in the midst of making their own Barbie movie. Or perhaps we will be introduced to an entirely new cast of characters. Regardless, the real thing that the sequel will need to focus on is being something that replicates the heart of the first three Toy Story films (which is definitely easier said than done).
Toy Story 4 is scheduled to hit theaters on June 16, 2017. Mark your long-term calendars!
Your Daily Blend of Entertainment News