Transformers Producer Planning A Live-Action Captain Planet Movie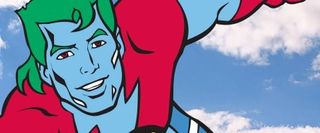 The timeline for mining nostalgia for the past for blockbuster films has finally moved up to the 90s. G.I. Joe and Transformers pretty well have the 80s covered, and now it's time for one of the goofy childhood icons of the Bush I years to be exhumed-- Captain Planet. According to a press release snagged by Coming Soon, it's all even happening at the hands of the man who made the Transformers movies happen, Don Murphy. He has signed a deal with Cartoon Network to develop a live-action film based on Captain Planet and the Planeteers, the animated series that premiered in 1990 and originally ran for two years. There was a revival version, The New Adventures of Captain Planet, and of course a huge line of toys to mine for the feature film.
With its earnest pro-environment message and rigidly diverse group of characters, Captain Planet seems entirely emblematic of the early 90s, kind of the way G.I. Joe's jingoism seemed part and parcel of the Reagan years. I have no idea how something so goofy could be revived as an action movie, with actual live actors playing characters like Gi and Linka. But if we live in a world in which robots from outer space are the biggest box office draw, truly anything is possible. In case you've forgotten how Captain Planet works, the five kids are the main characters of the show, but when they are overwhelmed by a problem they can combine their powers of Earth, Fire, Wind, Water and Heart to summon the heroic, godlike Captain Planet. Here, this video pretty well explains it:
The press release doesn't have any more details, and given how early things are in development I imagine it will be a while before we have any. As a member of the target audience for this movie, having grown up watching Captain Planet after school and knowing every word to the theme song, I have no idea why anyone would want to watch this live action movie. Any other kids raised by television in the 90s want to help me out on this one?
Your Daily Blend of Entertainment News
Staff Writer at CinemaBlend