Tree Of Life Stills Reveal Unused Scenes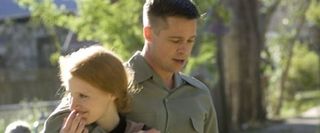 With The Tree of Life, Terrence Malick released his first feature film since 2005's The New World. Before that, the last film he both wrote and directed was 1998's The Thin Red Line. Malick definitely believes in quality over quantity. Whatever his approach, it seems to be working out for him. The Tree of Life received plenty of critical praise, not to mention a Palme d'Or from Cannes and a boatload of other awards. With any film that attracts this much positive attention, it's always fascinating to examine the scenes and concepts and ideas considered but abandoned. Now, thanks to the eagle eyes at Off the Coast of Maine, we can take a look at some of those roads not taken from Malick's The Tree of Life.
Movie City News first spotted the blog post, which includes a pretty extensive collection of stills and images that were officially released, but which include moments or scenes that didn't make the final cut of the movie. This isn't surprising, since Malick often shoots way more footage than he actually uses -- the director is rumored to be working on a cut of Tree of Life that clocks in at six hours.
Off the Coast of Maine has tons of these stills, but we'll post a few selections here. They include shots from the trailer...
...from the Russian website kinopoisk.ru...
...and from various promotional materials and behind-the-scenes shots.
You can also check out The Playlist for some storyboards and concept art from unfilmed scenes in The Tree of Life. They originated in a blog post (opens in new tab) by storyboard artist Mark Bristol, who has since removed them, so we've chosen not to post them here.
Your Daily Blend of Entertainment News
Thank you for signing up to CinemaBlend. You will receive a verification email shortly.
There was a problem. Please refresh the page and try again.