Tribeca Film Festival Review: Neil Jordan Returns To Vampire Tales With Byzantium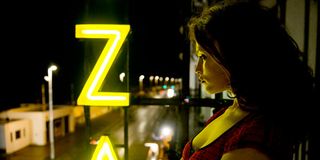 In 1994, Neil Jordan gave movie vampires a sexy makeover with his brooding adaptation of Anne Rice's Interview with a Vampire. Nineteen years later, he's taken on another adaptation of a vampire drama, this one based on the play Byzantium by Moira Buffini. Unfortunately, despite offering plenty of blood and sexual content, his latest vampire tale lacks bite and sex appeal.
Saoirse Ronan stars as the tormented Eleanor Webb, an eternal 16-year-old who has lived with her mother Clara (Gemma Arterton) for over 200 years. They scrape by with the money the latter earns through sex work. But don't expect the frantic frenzy of high-speed sex seen on True Blood. Despite implied heightened senses, there's little supernatural about these two, beyond their ability to live forever, take a beating, and grow their thumbnails to be the perfect piercing tool for severing a victim's veins. These vampires don't even have fangs.
Having stripped away so many of the standard vampire tropes, Byzantium feels lacking, missing out on a long-established and engaging mythos. Buffini does attempt to build one of her own, which involves a sexist and classist brotherhood of vampires that sees these women as abominations. It's an interesting backstory, but one unfortunately drawn out through a series of staggered flashbacks. These clunky leaps from past to present make the film feel like an eternity, and sadly the past's plot is far more interesting than the present. The former centers on the fiery Clara and features rape, revenge, rebirth, and redemption, while the latter is led by a gratingly angst-ridden and painfully passive teen who silently hates her mother and endlessly wallows in resentment.
While Ronan's gorgeous blue eyes try to bring some life to the role of Eleanor, she's such a passive character that it's a chore to follow her as she mopes around, killing those close to death and pining for a mortal boy with a very old-school look (Caleb Landry Jones). It's a shame that so much of the story centers on her when Clara is so active and Arterton so vibrant. But even with solid supporting turns from Jonny Lee Miller, Daniel Mays, Maria Doyle Kennedy (Downton Abbey), and Tom Hollander (Hanna), Byzantium is meandering and lifeless, much like its maudlin protagonist. It's a shame. I was really looking forward to this one.
For our complete Tribeca Film Festival coverage, click here.
Staff writer at CinemaBlend.