Tribeca Film Festival: Whitewash And The Pretty One, Two Deeply Dark Yet Delightful Comedies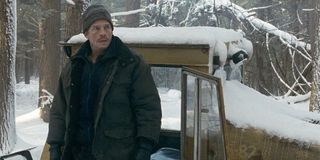 On the surface, Whitewash and The Pretty One have little in common. The first is an intimate character-driven narrative that stars Thomas Haden Church as an oft-inebriated widower who puts himself through hell in the depths of Canada's cruel and bitterly cold forests. The latter is a plucky romantic comedy in which Zoe Kazan plays identical twins. But both are the first feature helmed by their respective directors, as well as wildly entertaining and mesmerizing dark comedies with a fatal automobile crash as a catalyst in each.
Commercial director Emanuel Hoss-Desmarais took the leap to narrative features with a script he co-wrote with Marc Tulin. Whitewash begins with the familiar growl of Thomas Haden Church delivering a cryptic and defensive message. Then we're introduced to Bruce (Church) as he barrels around empty, snow-caked streets in his snowplow. Another man wanders into the middle of the road and--bam! Realizing he's killed this ill-fated pedestrian, Bruce wordlessly begins to cover his tracks. Beginning with this murder of an unknown man by a so far unnamed protagonist, Whitewash throws its audience headlong into a mystery that unfolds in flashbacks as Bruce flees to the woods to hideout and regroup.
There are echoes of Cast Away as Bruce's sanity becomes unmoored by gnawing remorse and total isolation. While on paper this might seem a lifeless premise, Whitewash is riveting thanks to the incredible and sharply funny performance of Church. Bruce is a man with a mind for survival, but he's not bright. So his awkwardly practicing a defense to imaginary policemen or trying to explain his presence to a freaked out vacationing family are great opportunities for talented comedian Church, who finds a nice balance of emotional depth and dopiness in Bruce.
With only a handful of supporting players who get little more than a few minutes of screen time, Church is practically in a one-man show, or--considering the grueling physicality of interacting with relentless snow and cold--a one-man endurance act. And he absolutely nails it. In Whitewash, Church is a revelation, exposing insights about loss, loneliness and guilt all while delivering hard-won laughs.
You can check out the trailer below. But be warned, it contains spoilers:
The Pretty One, written and directed by Jenée LaMarque, also deals in death and loneliness, but boasts a brighter tone and more outlandish characters. Zoe Kazan stars as identical twins Audrey and Laurel (pictured above), who couldn't be more different. Audrey is outgoing, chic and independent. She owns a duplex in the city and works as a broker selling people their dream homes. Timid Laurel still lives in her childhood bedroom, caring for her widowed father and wearing the dresses her late mother once donned. She's stuck in a rut until a cruel twist of fate gives her the chance to become the sister she's so long admired.
Its premise seems like something out of film noir's playbook, but LaMarque has a lot of fun with this plot while Laurel masquerades as her sister as a way to keep her around a little longer. It's a tricky balance between heartbreaking moments of grief and heartwarming scenes of Laurel finally embracing her life and individuality, and LaMarque and Kazan handle it with an impressive grace and wit.
Kazan turns in one of her funniest performances yet as the blossoming Laurel. And New Girl's Jake Johnson (as Basel, Audrey's tenant/Laurel's love interest) earns another victory on his quest to become the thinking woman's most crushable sex symbol. Johnson and Kazan share a downright charming chemistry, even when their lovebirds fall into calling each other almost sickeningly sweet nicknames. Ron Livingston makes a fun and unexpected appearance as Audrey's super suave ex, and John Carroll Lynch is perfectly heartbreaking as Laurel and Audrey's loving but painfully silent father.
After a day of watching movies about death and regret, I'd worried I'd be too emotionally tapped out to engage with The Pretty One. But in approaching a self-discovery story from this unexpected source, LaMarque's smart sense of humor pulled me in completely. The Pretty One is daring, original, poignant, sweet, and thoroughly funny. It's definitely among my favorite of the fest so far. Hopefully, this is just the start of LaMarque's moviemaking.
For more of our Tribeca Film Festival coverage, click here.
Staff writer at CinemaBlend.
Your Daily Blend of Entertainment News
Thank you for signing up to CinemaBlend. You will receive a verification email shortly.
There was a problem. Please refresh the page and try again.