Tribeca Interview: Sun City Picture House's David Darg, Olivia Wilde And Bryn Mooser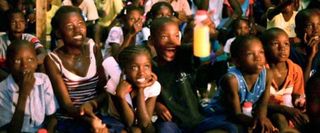 In the wake of the 2010 Haiti earthquake, many were left without food, water, shelter and other vital necessities. However, while working to restore fundamental essentials, Bryn Mooser and Adam Darg also fought to bring some fun and entertainment back into the local population's lives. The quake took down the last of the country's few functioning movie theaters so, with the help of Sun City residents, Mooser and Darg worked to build a new one, the Sun City Picture House.
Having made many fundraising pieces, both Mooser and Darg were familiar with the filmmaking process and opted to put those skills to use by documenting their work in a short film. The duo also attracted the attention of actresses Olivia Wilde and Maria Bello, both of whom donated a great deal of time to the Haiti relief effort and continue to do so today. Between Mooser, Darg, Wilde, Bello and the help of local supporters, it was merely a matter of days before the Sun City Picture House went from a noble idea to a reality.
To celebrate Sun City Picture House's debut at the Tribeca Film Festival Darg, Mooser and Wilde came out to further support their short documentary and the continued effort to rebuild Haiti. Check out everything the trio had to say about building the theater, creating this film and much more in the video interview below.
Your Daily Blend of Entertainment News
Staff Writer for CinemaBlend.
Your Daily Blend of Entertainment News
Thank you for signing up to CinemaBlend. You will receive a verification email shortly.
There was a problem. Please refresh the page and try again.