Tribeca Review: Angels Crest Wallows In Its Sorrows, Drowning Great Performances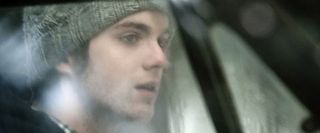 As much as going to the theater should be an enjoyable experience, there's nothing wrong with checking out a sad piece. However, nobody goes to the movies to just wade around in a character's problems; you need to experience the person's emotional range in order to understand and appreciate their hardships. Unfortunately, in Angels Crest's case, there's no variation of sentiment in the least, just one long depressing note.
Thomas Dekker is Ethan, a young father of a 3-year-old boy named Nathan (Ameko Eks Mass Carroll). One cold morning, Nathan wakes up early and convinces his dad to hit the road and take him to the snowy mountains of Angels Crest. By the time they get there, Nathan is fast asleep, so Ethan opts to head out alone to sneak a peek at the local wildlife. Only 20 minutes later, Ethan returns to his truck and Nathan is nowhere to be found. The townsfolk come out to help Ethan and the police look for Nathan, but it isn't until the next morning that Ethan finds his son, frozen to death, buried in the snow.
Not only is Ethan crushed by the loss, feeling guilty for his carelessness and simply missing his son, but he's also suffering with the pressure of some of his neighbors who outwardly blame him for the accident, most notably, Nathan's mother, Cindy (Lynn Collins). However, there are those who sympathize with Ethan's situation like his good friend Jane (Elizabeth McGovern). As for Angie (Mira Sorvino), the woman who runs the local diner, as much as she empathizes with Ethan, as a mother herself, she can't help but to notice the poor parenting decision. Worst of all, a local District Attorney (Jeremy Piven) plans to go after Ethan and prosecute him for his negligence.
Clearly, this is a tough one to get through, but nearly appropriately so. Director Gaby Dellal knows exactly what she wants to do with this story and goes for it. Everything from the color palette to the shot composition to the camera movements are meticulously planned, used in a very purposeful manner. This is a major asset in particular for a film dealing with such a gloomy subject. The camera, set design and music help to highlight emotions so the cast doesn't resort to overly dramatic performances.
While at first it may be tough to digest the rather young looking Dekker as Nathan's father, ultimately, Dekker convinces you of it. The opening of the film during which Ethan shows off his daddy skills feels a little contrived, but once they hit the woods and we move into Ethan's darker days, in Nathan's absence, Ethan's fatherly side is brutally strong.
The only one to come close to stealing some of the spotlight from Dekker is Collins. Her character is incredibly multidimensional. One minute you'll loathe her for drowning her problems in alcohol, but the next, she'll evoke a glimmer of hope suggesting there's a chance she might come around. Sorvino also finds success as Angie in a similar manner. Throughout most of the film, Angie is completely on Ethan's side, feeling terribly about what the prosecutor is putting him through, so when she's put in the position of having to question Ethan's responsibility, it makes for one of the film's most memorable scenes.
While McGovern shares an interesting relationship with her partner (Kate Walsh) and her son, in terms of enhancing Ethan's story, she's useless. Had that character been cut entirely, perhaps Piven's DA would have received some much needed additional attention. We're told a number of times that he's got a dark past plagued by an event similar to what's happening to Ethan and that his desperation to punish Ethan is linked directly to it, but that's just it; we're merely told and never believe it.
This is an unfortunate issue that tarnishes a great deal of the film, and not just from Piven's standpoint. Catherine Trieschmann's adaptation of Leslie Schwartz's novel is just poorly structured. If it weren't for Dellal's impressively telling imagery and this talented cast, it'd be impossible to be engaged in Angels Crest much at all. Once Nathan's body is found, the piece loses almost all forward motion. For a good portion of the second act, Ethan is merely standing still. He's being prosecuted and isn't doing a thing about it. And, even when he does, his plan of action is a bit nonsensical. Worst of all, by the end, no one's really changed. There are no arcs and therefore no increasing tension making the film's conclusion sadly anticlimactic.
Your Daily Blend of Entertainment News
Staff Writer for CinemaBlend.