Tribeca Review: Just Like Us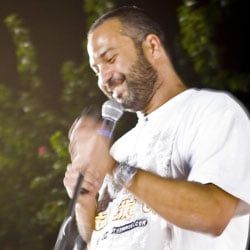 Who doesn't like comedy? Nobody! And that's exactly what the documentary Just Like Us attempts to purport, specifically in Arab nations. Yes, some regions may be behind when it comes to embracing the art of stand-up comedy, but that holds no bearing on the fact that if open to a good laugh, an individual of any background can simply be made happier.
Just Like Us opens with a brief lesson about the difference between a Muslim and an Arab. Through a sequence of interviews comedian Ahmed Ahmed solidifies the reality that most people, regardless of age, sex or ethnicity, naively use the terms 'Arab' and 'Muslim' interchangeably when in fact, 'Arab' refers to a nationality, while 'Muslim' refers to an individual practicing Islam. Now that that's out of the way, it's onto tackling the common misconception that these Arabs lack a sense of humor. After a few lovably sour jokes from Ahmed's father, we're off to Dubai, the first stop on Cross Cultural Entertainment's four-country tour.
Ahmed sets up each portion of this trip in a similar fashion. He begins by providing a short overview of the situation in that land, particularly the citizens' thoughts on comedy and then shows snippets from his stand up show during which he's joined by a number of other comedians of various backgrounds. There's England's Omid Djalili, Saudi Arabia's Sherif Azab, the US's Whitney Cummings, Tommy Davidson, Tom Papa and more.
The lineup may be well rounded, but Just Like Us' sole shortcoming is the minimal representation of those who feel the need to just say no to comedy. The anti-joke policy is primarily provided via voiceover and the few interviewees to explain the disapproval seem to be merely passing along the message rather than showing a heated hatred for the entertainment. Not only was Ahmed once banned from Dubai for telling an inappropriate joke, but Saudi Arabia forbids entertainment entirely. However, both Egypt and Lebanon are much more lenient when it comes to silly behavior. The distinction justifies an additional 10 minutes, however, the void in no way tarnishes the film.
Regardless of the rules, Ahmed and his band of comedians keep you laughing nearly the entire film. Not only is the material flowing during their performances, but they make you feel as though you're on the tour with them. The portions selected from their acts are spot on, particularly the moment when a band of Egyptian children steal the show from Ahmed. The same goes for the gang's free time during which, they're typical tourists checking out the sites and meeting new people, the highlight of that segment being Canada's Angelo Tsarouchas' attempt to climb aboard a camel.
But the movie isn't all fun and games. In fact, Ahmed concludes his adventure by returning to the states and sharing a moving encounter with a local New Yorker who recognizes him aboard the Staten Island Ferry. More than just showing Ahmed's caring side, this segment brings Just Like Us full circle, returning to the US and leaving the viewer with a sense of fulfillment.
When dealing with a topic with a vast amount of negative preconceived notions, viewing the issue from a comedic standpoint is the best way to appeal to the masses. Whereas most might approach the supposed censorship in Arab nations with caution, Ahmed dives right in and pokes fun at the tension and confusion the entire way, yet maintains a serious undertone so as not to undermine the significance of the subject.
Staff Writer for CinemaBlend.
Your Daily Blend of Entertainment News
Thank you for signing up to CinemaBlend. You will receive a verification email shortly.
There was a problem. Please refresh the page and try again.