Troll Hunter Director To Make English-Language Debut With The Autopsy Of Jane Doe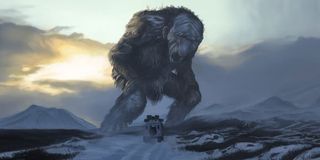 Norwegian filmmaker André Øvredal caught our attention back in 2011 with his inventive horror-fantasy Troll Hunter. And at long last he's offering us a follow-up called The Autopsy of Jane Doe. Digital Journal reports the film will also be of the horror genre, but unlike Trollhunter it will be in English.
As you might rightly assume, The Autopsy of Jane Doe begins with the autopsy of an unidentified woman, who was young, beautiful, and evidently murdered. Ian Goldberg and Richard Naing penned the original screenplay that's plot follows a father-and-son team of coroners, whose quiet life working in a small town mortuary is disrupted by the curious questions that arise from bizarre clues found on the body of this Jane Doe. These clues not only hold the key to how she was killed but also to some truly terrible secrets.
Speaking to the Norwegian news source The Local, Øvredal said of his new project, "The Autopsy of Jane Doe has everything I want in a horror movie - great characters, an intriguing mystery and it is simply the scariest scripts I have ever read."
The UK-based Goldcrest Films, the production company partially responsible for Andrea Arnold's outstanding Wuthering Heights adaptation, is backing and handling sales for the project, which will begin shooting in London this winter. Variety notes the The Autopsy of Jane Doe's distribution rights will be pitched to buyers at the American Film Market, which kicks off in seven days. Typically, a big part of these sales pitches are noteworthy cast members. But no casting announcements have yet been made on this project. While Troll Hunter has a growing reputation among genre fans, its international box office was underwhelming at $4 million. So, it's possible The Autopsy of Jane Doe wouldn't be afforded a budget that will allow for star power.
Nonetheless, this reporter is elated. Øvredal's Troll Hunter was a wonderful adventure story that centered on three skeptical college students whose film project leads them into the wilds of Scandinavia where they discover the titular hunter and his prey, which are massive, dangerous, and the stuff of legends. Aside from finding a fervent (though small) fan following, the film also earned appreciation from American moviemaker Chris Columbus, who bought its remake rights and recently hired The Descent's director Neil Marshall to helm. It's unclear at this point what involvement - if any - Øvredal will have in the English-language remake of his work, but at least we have a new project to look forward to from him.
If you haven't seen Troll Hunter, correct that error right now by watching it on Netflix Instant, where it's Now Streaming.
Staff writer at CinemaBlend.
Your Daily Blend of Entertainment News
Thank you for signing up to CinemaBlend. You will receive a verification email shortly.
There was a problem. Please refresh the page and try again.