Christopher Columbus Hires Neil Marshall For Troll Hunter Remake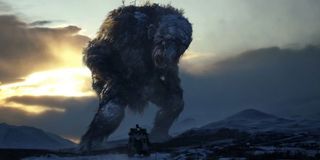 English director Neil Marshall has forged a reputation for himself in the horror genre helming the chilling werewolf tale Dog Soldiers and the nightmare fuel known as The Descent. After delving into a string of action-centered productions like Centurion and Game of Thrones, Marshall is returning to horror with the Troll Hunter remake. Deadline reports Marshall will get a pass at the script and go into pre-production on the feature as soon as he gets back from Ireland, where he's currently at work on the "biggest" episode of Game of Thrones's fourth season.
The original Troll Hunter was a Norwegian film written and directed by André Øvredal. Set in Scandinavia, its story centered on a trio of college students making a documentary short on a peculiar poaching problem plaguing the regions. But as they track these incidents, they come across a strange man who they believe knows more than he lets on. One night, after following him into the woods, they are shocked to discover he's no poacher killing bears, but a troll hunter. Yup! Trolls are real, massive and very dangerous. The beleaguered and lonely hunter decides to share his story, and the students end up following him into the wilds of Norway where adventure awaits.
Blending a wry sense of humor with an ardent sense of wonder while mixing found footage horror with satirical mockumentary, Øvredal's imaginative thriller won critical praise, a coveted spot at Sundance in 2011, and ultimately the notice of Home Alone director Chris Columbus. His production company 1492 snatched up remake rights for Trollhunter in June of 2011, and selected DreamWorks executive turned screenwriter Marc Haimes to draft the adapted screenplay. At the time, Columbus said:
God forbid Americans watch a movie with subtitles. But if there had to be a remake of this terrifically fun and original movie, at least they hired someone like Marshall. The guy has obvious skills with horror and building tension, as evident through The Descent and Dog Soldiers. And he's shown himself to be an incredible director of action with the "Blackwater" episode of Game of Thrones season two.
While I'll always love the original Troll Hunter, I am at least hopeful Marshall's version will be engaging and scary. Sadly, there's no mention in the Deadline announcement that Øvredal will be involved in the remake, which is a shame as his designs of the first film's trolls were a major part of its success. It'll also be interesting to see what a much bigger budget brings to the story. While Øvredal's film cost an estimated $3.5 million in US dollars, Columbus's production is earmarked at $25 mil, which presumably buys a lot of trolls and potentially a big star.
Production on the Troll Hunter remake is suspected to begin early next year in hopes of saving money by shooting in locations where snow still lies. Casting on the film is now beginning, and reportedly producers are looking for a star for the lead role which is presumably the titular huntsman. If not too much is changed from the original, the role will go to an older actor who comes off as both cantankerous and charismatic. Think Robert Shaw in Jaws.
In the meantime, if you haven't seen Troll Hunter I suggest you do so immediately on Netflix Instant (opens in new tab), where it's Now Streaming.
Your Daily Blend of Entertainment News
Staff writer at CinemaBlend.