True Blood's Joe Manganiello Playing Big Dick Richie In Steven Soderbergh's Magic Mike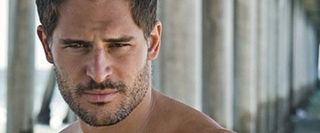 Yesterday I saw Warrior, which between stars Tom Hardy and Joel Edgerton and the real-life MMA fighters who make up the background characters might be the hunkiest, most muscle-bound movie of 2011. It shouldn't get used to its crown for too long, though, since the contender for 2012 is already clearly taking shape. Steven Soderbergh's male stripper movie Magic Mike already boasts a murderer's row of prettyboys in its cast, including Alex Pettyfer in the lead role, Channing Tatum--whose life story inspired the film-- playing a mentor, Matthew McConaughey playing the owner of the male strip club, and White Collar Matt Bomer playing one of the well-paid dancers. Now the cast has added another TV hunk, which pretty much guarantees the movie theater showing Magic Mike will have the same raucous atmosphere as a bachelorette party.
According to THR, True Blood star Joe Magnaniello, who plays Alcide Herveaux on the vampire soap, has joined the cast to play a character called Big Dick Richie. Honestly, I think Soderbergh is making all the jokes himself about the movie just so we're left speechless when writing up the cast. The movie starts shooting in September, and its existence pretty much confirms that all the talk of Soderbergh's retirement was nonsense-- the guy seems busier than ever these days. And with Magic Mike he'll be bringing us yet another movie that seems to be a total departure from what he's done before, something so weird that only Soderbergh could get us excited about it. I know it's a wild card, but Magic Mike is quickly becoming one of my most anticipated movies of the coming year-- and no, it's not entirely because of all the hunky male dancing on display.
Your Daily Blend of Entertainment News
Staff Writer at CinemaBlend