Twilight Producers To Adapt John Green's Novel The Fault In Our Stars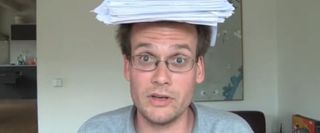 John Green has been a successful and well-loved young adult author for years, thanks both to his books and his ongoing series of video blogs that have built up a fierce and loving fanbase to support him. But there was even more hubbub than usual surrounding his newest novel The Fault In Our Stars, and this time, Hollywood has taken notice. Variety reports that Fox 2000 has acquired the rights to the book, about a terminally ill teenage girl who meets a boy at a cancer support group and sparks up a romance even as the two deal with their life-threatening illnesses.
Before you start screaming "teenage Beaches" and running away, remember that Green is known both for his skillful writing of honest emotions and his sense of humor; in NPR's review of the book they note that the novel is " brimming with joy," and praise the books willingness to develop the characters and let "their plans unfold and relationship flourish even as they both face death." If you want a better sense of Green and his books, you can actually watch the author himself read the book's first chapter in the video below. But you probably ought to know that the Fox 2000 adaptation will be done by Twilight producers Wyck Godfrey and Marty Bowen, who definitely know teenagers pretty well at this point. Can we hope that they'll maintain Green's unique voice and not try to cram the story into something more Twilight-friendly and shallow? Even after watching a few minutes of Green on video, you might feel so attached that you have no other choice. So, yeah, fingers crossed.
Staff Writer at CinemaBlend