UPDATE: Vanessa Hudgens Isn't Remaking Buffy The Vampire Slayer But Sarah Michelle Gellar Could Be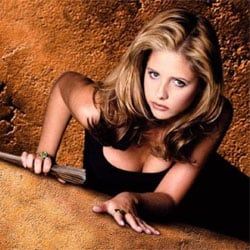 UPDATE! To no one's surprise, this rumor has been staked in the heart. Hudgens' reps tell Gossip Cop that she was never approached about the Buffy remake, so she couldn't have turned it down. Sarah Michelle Gellar's reps further confirm that reports of her involvement in this project are "not true".
We haven't heard anything about the impending Buffy the Vampire Slayer remake in awhile, but somewhere out there it's ongoing. In fact they may even be casting. ShowBizSpy claims Vanessa Hudgens turned down an unspecified role in the film. Here's the weird thing. She turned it down because she didn't think it could beat Twilight. That doesn't make any sense.
What would make sense is forgetting this remake notion entirely and just making a movie with the Buffy cast from Joss Whedon's popular TV show, since that's the only cast anyone wants. Till now that hasn't seemed like an option. It's pretty clear that Whedon won't be involved and because of that most of the cast have said they wouldn't be either, if they were asked, which they haven't been. Back in December Alyson Hannigan, who played Willow in the television series, told us that she thought the remake was a "very big mistake" and adamantly declared, "Joss is the only reason that we would go back." But maybe that "we" didn't include Buffy, Sarah Michelle Gellar.
While several of the castmembers from the television show have chimed in and voiced their displeasure with the remake, we've heard nothing on the subject from Buffy herself. And now, buried in ShowBizSpy's Hudgens article there's this aside: "VANESSA Hudgens has turned down the chance to team up with Sarah Michelle Gellar and bring Buffy the Vampire Slayer back from the dead." What? They seem to think Gellar is actually in the new Buffy the Vampire Slayer movie. Is it true? Do they know what they're talking about? Right now we have no idea. We'll let you know as soon as we hear something more concrete from a better source, but if you're a fan, it's probably unrealistic to hope for more than a cameo.
Your Daily Blend of Entertainment News