Unearth The Indiana Jones Complete Blu-Ray Collection This Fall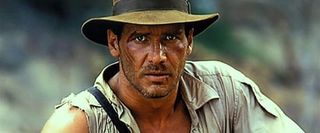 When Indiana Jones and the Kingdom of the Crystal Skull came out on Blu-ray back in 2008, many fans -- yours truly included -- were annoyed that the release was not followed by a date when we could look forward to owning the rest of the Indiana Jones films in high-def. I know, I know, Crystal Skull is the most recent and thus requires the least work to port over to Blu-ray, but it still irritated me that the only Indiana Jones movie available in high definition was the one I was trying my hardest to forget existed. Thankfully, at long last, we finally know when fans will be able to take home pristine Blu-ray copies of Raiders of the Lost Ark, Temple of Doom, and The Last Crusade. Paramount has announced that The Complete Indiana Jones Blu-ray Collection will be hitting shelves this fall.
There's not much more info in the press release than that vague date, but here's what the release says about the set:
Like I said: vague. Still, considering how packed the Star Wars Blu-ray releases were, you can probably expect a similar smorgasbord of behind-the-scenes Indy goodness. Fingers crossed that Spielberg keeps Lucas from "improving" the films like he did with his Star Wars movies. You can also likely expect the films to be sold separately if, like me, you refuse to acknowledge the existence of anyone named "Mutt Williams."
Stay tuned to Cinema Blend for cover art and further details as they become available.
Your Daily Blend of Entertainment News
Your Daily Blend of Entertainment News
Thank you for signing up to CinemaBlend. You will receive a verification email shortly.
There was a problem. Please refresh the page and try again.