Universal Dominates January Box Thanks To Ride Along, Lone Survivor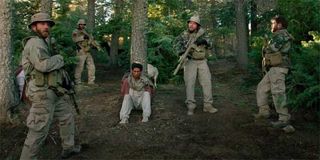 As far as box office, January is usually a dumping ground, where only awards-friendly holdovers make any real money and big new attractions fall by the wayside. In January, a big, wide release won't win you any attention, but a savvy expansion could make all the difference between a megahit and an also-ran. It's likely we'll never see a January quite like the one in 2010, where Avatar ruled the roost, the month generating $1.06 billion in receipts for studios. But hold your head up high, Hollywood: in 2014 you came close!
Box Office Mojo reported a total January domestic take of $894 million, a spectacular haul considering a raft of 2013 leftovers encroaching upon the new release territory. Leading the way was Lone Survivor: the film played to decent business at the tail-end of 2013 specifically in a big-city limited release. But the Mark Wahlberg actioner was a star, a star, a big bright shining star when it expanded on January 10th, nearly recouping its $40 million budget in its first three days of wide release.
Universal proceeded to drop the boom once again with Ride Along collecting $84.7 million through January. The film was the number one movie in the country for three weeks in a row, and is a sure bet to cross $100 million. Ride Along opened against the competition of Jack Ryan: Shadow Recruit, and it's safe to say Kevin Hart and Ice Cube ate Chris Pine's lunch: the spy thriller barely crawled over $35 million through the month, and it seems unlikely to pass the $83 million gross of Patriot Games to avoid being the lowest-grossing Ryan adventure.
Disney's Frozen was the one and only attraction for kids, pulling in $89.9 million during the month despite being in release for months prior. The film's total now stands at $360 million after a sing-along re-release, and it is the both highest-grossing animated non-sequel, and only a couple of million away from being the biggest animated release of 2013, surpassing Despicable Me 2. Disney remains mum on a Frozen sequel, though you'd hope that it's not another quickie DVD follow-up.
It's a duel to the death between American Hustle and The Wolf Of Wall Street. The former was released earlier last year and has thus collected the higher gross, but it pulled in $63.1 million in January, only slightly more than the Wolf's $60.2 million. The difference is basically negligible, given that Wall Street is almost a full hour longer than Hustle, limiting the amount of daily showtimes. Hustle has brought in $134 million domestically thus far, while Wolf has just recently passed $100 million, though it's almost doubled that ($160 million) overseas.
As for the rest of those newer releases? It wasn't pretty. Paranormal Activity: The Marked Ones became the weakest in the series ($32 million), and it only barely performed better than The Legend Of Hercules, Devil's Due and poor, poor I, Frankenstein: even with a 3D release, that film could only collect $12.1 million stateside.
Your Daily Blend of Entertainment News