Updated: Golden Globes May Blacklist Ricky Gervais' Future Movies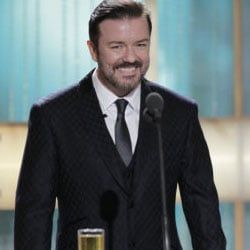 UPDATE! The Hollywood Foreign Press Association has issued a statement contradicting nearly everything the below HFPA source allegedly told PopEater. Here's their official stance on the night's events, as reported by EW: "We loved the show. It was a lot of fun and obviously has a lot of people talking. When you hire a comedian like Ricky Gervais, one expects in your face, sometimes outrageous material. Certainly, in this case, he pushed the envelope and occasionally went too far. The HFPA would never condone some of his personal remarks. Overall, however, the show was among the best we've ever had and we were pleased."
---
The Hollywood Foreign Press Association is the dark and mysterious organization behind the Golden Globes and for years now, they've been accused of all sorts of strange and possibly corrupt behavior when it comes to choosing who wins their trophy. Now you can add pettiness to their list of possible crimes. They may be blacklisting Ricky Gervais.
Pop Eater spoke with a member of the HFPA who told them that not only will Ricky not be invited to host the awards again (as we predicted last night), "for sure any movie he makes he can forget about getting nominated." What's the problem? He was funny. Really funny. Sometimes at their expense. Their source says, "He humiliated the organization last night and went too far with several celebrities whose representatives have already called to complain."
It's one thing if they don't want to invite him back, but it's quite another to ban him from receiving awards just because they don't like his sense of humor. Mark this down as just one more reason not to take the Golden Globes seriously.
Meanwhile, not everyone who was there is as humorless as the HFPA. For instance Reuters quotes Christian Bale as saying, "Thank God for comedians, I hope he keeps going further." Relativity Studios CEO Ryan Kavanaugh says of him, "He was hilarious. I thought he was just perfect. If he knocked me, it's all in good fun. If we take ourselves too seriously, then what are we doing here? He makes us realize that we are all here for reasons that go between skill and luck. Let's enjoy it."
Unfortunately, not everyone is as easygoing as Christian Bale (I can't believe I just typed that). If you're wondering just what Ricky said to make people so mad (and in the process kept his television audience entertained), here's a breakdown of some of his best zingers from the event.
Your Daily Blend of Entertainment News