Usher To Play James Brown?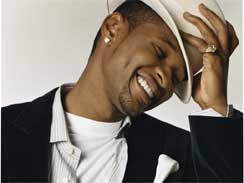 With the announcement that Spike Lee is making a movie about the life of James Brown earlier this week, the web is full of speculation about who will play the original soul man. Could it be Usher?
Our friends over at Filmstalker have picked up a story from Page Six which says both Usher and Black Eyed Peas singer Fergie are actively seeking parts in the film. Usher wants to play James Brown, and Fergie one of his many wives.
Usher is a great R&B singer, but who cares about that. He's not an actor. It's more important than you find someone to act if you're going pull a movie like this off. If they have to, they can always lip sync the singing the way Jamie Foxx did in Ray. You can't lip sync acting.
Of course it might be nice if the actor chosen could both sing and act. It always adds a little something to the movie. It's one of the many reasons I like Walk the Line so damn much. If you have to make a movie about James Brown, why not look to someone like Mos Def? He's a musician, and in case you've missed his work till now, the guy can really act. He hasn't had a big break in movies yet, this might be a perfect fit. But not Usher. Seriously, we do not need Usher. If he wants to dress up like James Brown and karaoke his songs, let him do it at one of his concerts.
Your Daily Blend of Entertainment News
Thank you for signing up to CinemaBlend. You will receive a verification email shortly.
There was a problem. Please refresh the page and try again.