Victoria's Secret Model Marisa Miller Will Play Jeff Bridges In R.I.P.D.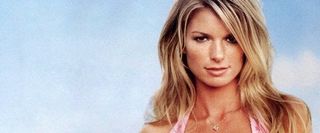 It's never been all that uncommon for a photogenic supermodel to make the leap over into an acting career, but for some reason a crop of blonde Victoria' Secret models all seem to be making the change at the same time, and in giant movies supported by male actors where they won't actually have to do much, well, acting. Brooklyn Decker kicked it off with Adam Sandler's Just Go With It and soon Battleship, Rosie Huntington-Whiteley actually held her own against the robot mayhem in Transformers: Dark of the Moon, and now former Sports Illustrated cover girl Marisa Miller is joining the club.
According to THR, Miller won't just be joining the cast of the supernatural action movie R.I.P.D., but for her first movie she'll be playing Jeff Bridges. I know, I'm a little confused too. In the movie Ryan Reynolds and Jeff Bridges play a pair of ghosts who work for the Rest in Peace Department, basically cops for spirits who try to cause mayhem before leaving the earth. Occasionally these ghosts have to appear in corporeal form, and when Bridges is doing that, he looks like Marisa Miller. I mean, if I could choose how I appear to others, I might choose Miller too.
Miller isn't a total newcomer to acting, having appeared on How I Met Your Mother and Entourage, but this role actually seems pretty demanding, especially if she's supposed to act like Bridges himself while standing in for him on earth. Robert Schwentke, who last made another action comedy RED, is also bringing back that movie's co-star Mary Louise Parker for R.I.P.D., and when you add in Reynolds and even Bridges, that makes a lot of people in the cast who are perfectly comfortable wearing very little clothing. Say what you will about my taste in movies, but I think that bodes well.
Your Daily Blend of Entertainment News
Staff Writer at CinemaBlend