Video Interview: Kill The Irishman Writer-Director Jonathan Hensleigh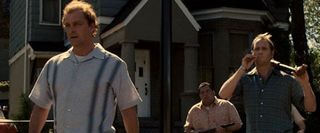 Writer-director Jonathan Hensleigh is a lucky guy. It's quite surprising that a filmmaker hadn't snatched this story up sooner. Danny Greene had one heck of a life that came to an end on October 6th, 1977, but it isn't until March 11th, 2011 that we're finally getting the chance to see that story play out on the big screen in Kill the Irishman.
We meet Greene (Ray Stevenson) when he's just a boy battling it out on the streets alongside his pal, Joe Manditski (Val Kilmer). From there we fast forward to adult Danny working as a longshoreman on the docks of Cleveland. Unhappy with the working conditions, Danny takes it upon himself to challenge the union leader in order to make a difference. He winds up assuming that position himself, but rather than focusing solely on his noble intentions, he gets involved in the mafia and from there, it's a power struggle packed with car bombs.
With the film's release fast approaching, Hensleigh took the time to sit down and tell us all about the entire process from adapting a true story, to working with such a talented cast, to shooting in Detroit and much more. Have a glance at the roundtable interview for yourself in the video below.
Staff Writer for CinemaBlend.
Your Daily Blend of Entertainment News
Thank you for signing up to CinemaBlend. You will receive a verification email shortly.
There was a problem. Please refresh the page and try again.