12 Netflix Movies To Watch If You Like Crime Stories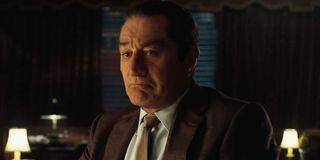 They say that "if you can't do the time, don't do the crime" - a phrase that, I imagine, takes on a whole new meaning for fans of crime movies since they prefer to spend most of their time watching stories about how people ended up behind bars. I would also imagine that they spend a lot of time browsing through a good chunk of original Netflix movies because, with exclusive Netflix movies such as The Irishman or the recently released The Trial of the Chicago 7, I cannot think of a streaming service better suited for a crime fiction (or even non-fiction) aficionado.
In addition to the other famous gritty thrillers like Drive or Mean Streets, darkly comic capers such as Pineapple Express or the sequels to 2001's Ocean's Eleven remake, or twisted documentaries like Abducted in Plain Sight or Surviving R. Kelly, Netflix is the exclusive home for even more criminally entertaining movies and morbidly fascinating non-fiction features about the world's worst (or, maybe, just the most misunderstood) people. It has made such a killing (no pun intended) off of the genre that you almost wonder if the platform would do just as well by adopting a purely crime-based schtick, a la Shudder's dedication to providing all horror all the time.
In reality, I do not see such a drastic change in its catalog happening anytime soon, but I have no doubt they will continue to serve plenty more stories of murder, thievery, and other heinous sins for years to come. However, for now, you can enjoy these 12 Netflix original films and documentaries based on such topics, starting with a feature-length spin-off to one of the most acclaimed TV crime dramas of all time.
El Camino (2019)
After escaping the clutches of a neo-Nazi group, a young former crystal meth manufacturer (Emmy-winner Aaron Paul) seeks a new beginning, but must risk life and limb to take care of some unfinished business first.
Why It Is A Great Netflix Original Crime Story: Picking up immediately after the events of the Breaking Bad series finale, El Camino chronicles Jesse Pinkman's blistering race against time to break free of his past mistakes, complimented by brutal flashbacks of his life in captivity and fun appearances of a few familiar faces.
Stream El Camino on Netflix here (opens in new tab).
1922 (2017)
Strange events begin to plague a farmer (Thomas Jane) and his teenage son (Dylan Schmid) after they carry out a plan to cure their financial woes, which involves the murder of his wife (Molly Parker), in early 1920s Nebraska.
Why It Is A Great Netflix Original Crime Story: Loosely inspired by true events, 1922 is another classic tragedy in the vein of Edgar Allan Poe's the "Tell-Tale Heart," but seeing as it is also based on a novella by Stephen King, you can expect it to go in a much more peculiar, and terrifying, direction.
Stream 1922 on Netflix here (opens in new tab).
The Devil All The Time (2020)
A young former soldier (Bill Skarsgard) going to extreme lengths to save his ailing wife (Haley Bennett), a murderous couple (Jason Clarke and Riley Keough) scoping out "model" victims, a devoted preacher on the run (Robert Pattinson), and other accounts of shady individuals are tangentially related to the core story of this haunting, post-World War II morality tale.
Why It Is A Great Netflix Original Crime Story: Tom Holland leads the star-studded cast of The Devil All the Time - yet another Netflix original rural period piece about ordinary people in very bad situations - based on the book by Donald Ray Pollock, who also serves as the film's narrator.
Stream The Devil All The Time on Netflix here (opens in new tab).
American Murder: The Family Next Door (2020)
A widely publicized investigation ensues after the disappearance of Colorado housewife Shannan Watts and her two daughters, leaving her husband, Chris, a prime suspect.
Why It Is A Great Netflix Original Crime Story: Produced by James Marsh, director of the Academy Award-winning Man on a Wire, American Murder: The Family Next Door is the latest attempt from Netflix to make you question who in your life is worth trusting with this original documentary profiling the heartbreaking 2018 crime.
Stream American Murder: The Family Next Door on Netflix here (opens in new tab).
The Irishman (2019)
An aging, former labor union official (Robert De Niro) recalls his long career as a mafia hitman and reveals his connection to the shocking disappearing of Jimmy Hoffa (Al Pacino).
Why It Is A Great Netflix Original Crime Story: While The Irishman is, admittedly, inspired by one man's unproven personal account of an otherwise true story, with direction by Martin Scorsese and a top-notch cast of acting veterans (including an out-of-retirement Joe Pesci), you will be convinced you are seeing history unfold right before eyes by the end of this Oscar-nominee's three and one half-hour runtime.
Stream The Irishman on Netflix here (opens in new tab).
The Highwaymen (2019)
In the 1930s, two former Texas Rangers (Kevin Costner and Woody Harrelson) travel across the country in search of a notorious pair of criminals known as Bonnie and Clyde.
Why It Is A Great Netflix Original Crime Story: Everybody knows the story of the legendary bank robbing duo, thanks in part to the 1967 film starring Warren Beatty and Faye Dunaway, but not as many know about the lawmen who stopped them, which is just what The Highwaymen, from director John Lee Hancock, sets out to do and succeeds beautifully.
Stream The Highwaymen on Netflix here (opens in new tab).
The Trial Of The Chicago 7 (2020)
A group of political activists face unfair treatment and discrimination while attempting to prove their innocence after an intended peaceful protest of the Vietnam War ends in violent conflict with Chicago police in 1968.
Why It Is A Great Netflix Original Crime Story: A heavy-hitting cast (including Yahya Adbul-Mateen II and Michael Keaton, to name a few) and genius screenwriter Aaron Sorkin (who also directs) bring the infamous true story of The Trial of The Chicago 7 to life in a highly entertaining and powerfully poignant way.
Stream The Trial Of The Chicago 7 on Netflix here (opens in new tab).
Team Foxcatcher (2016)
A documentary examination of the relationship between promising American wrestler Dave Schultz and John du Pont - the elderly, wealthy sports enthusiast who funded his Olympic training before inexplicably shooting him in cold blood.
Why It Is A Great Netflix Original Crime Story: While it does follow the events that inspired Foxcatcher, the 2014 film starring Steve Carell in an Oscar-nominated performance as John du Pont, Team Foxcatcher goes even more in-depth about the development of the titular team's formation at Du Pont's home wrestling facility and the investigation that followed after he caused his star athlete's tragic demise.
Stream Team Foxcatcher on Netflix here (opens in new tab).
22 July (2018)
A harrowing dramatization of the terrorist attack that killed more than 70 young attendees of a Norwegian Labor Party Youth Camp on July 22, 2011.
Why It Is A Great Netflix Original Crime Story: Told in three parts (from the perspective of the survivors, political leaders of Oslo, and lawyers involved in the case), 22 July is a rich, pulse-pounding retelling of the devastating mass murder and its aftermath from the director of Captain Phillips and three of the Jason Bourne movies, Paul Greengrass.
Stream 22 July on Netflix here (opens in new tab).
Message From The King (2016)
A drifter from South Africa (Chadwick Boseman) will stop at nothing to find his younger sister in Los Angeles after suddenly losing all contact with her without explanation.
Why It Is A Great Netflix Original Crime Story: An expectedly strong performance from the late Chadwick Boseman carries Message from the King, a story of the lengths one will for family and the crushing revelations that tend to come from such journeys.
Stream Message From The King on Netflix here (opens in new tab).
Amanda Knox (2016)
An in-depth observation of the sensational trial and eventual acquittal of a young woman for the 2007 murder of her roommate and fellow exchange student in Italy.
Why It Is A Great Netflix Original Crime Story: The titular, polarizing subject of the Emmy-nominated documentary feature Amanda Knox is profiled through archive footage and intimate interviews with the many people involved with the case, including the Knox herself.
Stream Amanda Knox on Netflix here (opens in new tab).
The Lovebirds (2020)
An average couple (Issa Rae and Kumail Nanjiani) are suddenly thrown into an unusual night of violence, murder, and mystery that puts their relationship to the ultimate test.
Why It Is A Great Netflix Original Crime Story: I figured that after a long binge of such dark and depressing features (especially that Amanda Knox doc) you might be in need of a lighthearted palette cleanser, and that is what just what the The Lovebirds (a romantic comedy with a criminal edge picked up by Netflix in the wake of Covid-19) can do, without diverting too far the morbid content you may prefer.
Stream The Lovebirds on Netflix here (opens in new tab).
What do you think? Is The Lovebirds the kind of comic caper that appeals to the lover of both mirth and macabre in you, or could it have been darker? Let us know in the comments and be sure to check back for additional information and updates on the most criminally entertaining movies and TV shows available to stream, as well as the other varieties that can be found among Netflix's exclusive content, here on CinemaBlend.
Your Daily Blend of Entertainment News
Jason has been writing since he was able to pick up a washable marker, with which he wrote his debut illustrated children's story, later transitioning to a short-lived comic book series and (very) amateur filmmaking before finally settling on pursuing a career in writing about movies in lieu of making them. Look for his name in just about any article related to Batman.