The Irishman: 8 Behind-The-Scenes Facts About the Martin Scorsese Movie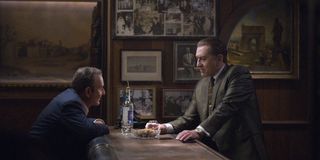 (Image credit: Netflix)
The Irishman brought together four of the most iconic figures in gangster film history - Martin Scorsese, Robert De Niro, Al Pacino and Joe Pesci - for one of the biggest gangster films of all time, in both scope and budget. While the film, released in 2019, may still be relatively fresh in fans' minds, the process of making The Irishman was a long one for Scorsese and company for a variety of reasons. Here's a sampling of just some of the things that went into making The Irishman with these eight behind-the-scenes facts.
The Irishman Took The Greenlight Away From Another Scorsese/De Niro Collab
Back in 2007, it had been 12 years since Martin Scorsese and Robert De Niro had worked together, with Casino being their last film. The wheels were in motion for the iconic duo to finally reunite, but it wasn't for The Irishman. In fact, The Irishman completely killed the project they were discussing at the time.
In a Hollywood Reporter profile piece for The Irishman, it was shared that Paramount's Brad Grey was ready to give the greenlight for Frankie Machine, which would see De Niro play a retired hitman drawn back for another job. However, while doing research for Frankie Machine, De Niro read Charles Brandt's book about Frank Sheeran, I Heard You Paint Houses. After talking with Scorsese, the pair felt a stronger connection to Sheeran's story.
As De Niro's producing partner Jane Rosenthal recalled, Grey had little qualm with swapping a greenlight for a development deal, and that was how work on what would become The Irishman began.
Joe Pesci Took A Long Time To Convince To Do The Irishman
One of the biggest draws of The Irishman - besides the given of it being a Martin Scorsese film - was that it would bring together Robert De Niro, Al Pacino and Joe Pesci, an iconic trio appearing all together for the first time on the big screen. However, it wasn't easy getting Pesci to agree to do the film.
Since Lethal Weapon 4 in 1998, Joe Pesci had only appeared on screen in two movies - The Good Shepherd (a cameo for a film directed by De Niro) in 2006 and Love Ranch in 2010. Pesci was in de facto retirement, during which he was filling his time by performing jazz under the name Joe Doggs.
But the team behind The Irishman were not going to take no for an answer. Reports were that they asked Pesci 50 times (Scorsese quipped to Entertainment Weekly it was probably more) with him saying no. De Niro even joked about it during an appearance at the 2016 Guys Choice Awards.
Pesci, of course, eventually relented. Scorsese said in multiple interviews that a key reason was that Pesci's role as Russell Buffalino was different than the roles he had in Goodfellas or Casino.
Jane Rosenthal, in Criterion's The Irishman making-of documentary, said there was never any doubt in their minds that Pesci would say yes. "[T]here are certain times that no is not an option."
How The Irishman Production Reminded Al Pacino Of The 1970s Era Of Filmmaking
The Irishman was the first film that Martin Scorsese did for a streaming company. The production used digital de-aging technology so that De Niro, Pacino and Pesci could play their characters at different ages. But despite all of these 21st century components, working on The Irishman reminded Al Pacino of the kind of filmmaking he first experienced on sets like The Godfather and others in the New Hollywood era of the 1970s.
A big reason for that was because The Irishman was not made by the traditional studios. With an estimated budget of $159 million, most studios didn't want to make a three-and-a-half hour soulful gangster film starring octogenarians, especially in a market dominated by the "theme-park" cinema of today, as Scorsese has called it. Netflix, which has earned a reputation for letting filmmakers tackle unique and different stories, swooped in and gave Scorsese and The Irishman just about everything they needed.
The De-Aging Technology Was Tested By Reshooting A Goodfellas Scene
The Irishman spans 50 years, covering Frank Sheeran's story from how he got involved in the mafia as a hitman, his relationship with Jimmy Hoffa and his final days living with regret. Scorsese didn't love the idea of casting younger versions of Sheeran, Hoffa and the other characters when he had three of the greatest actors ever available at his disposal. So the director opted to experiment with digital de-aging technology, relying on some past work to test how good the tech was.
Working with Pablo Helman from Industrial Light & Magic (ILM), Robert De Niro performed a scene from Goodfellas, which at the time was about a 25-year difference. Helman, in the Criterion documentary, described what they used for the test as a "band-aid" setup for what they would use in the film, but it did its job, with the crew calling the results of the test a "home run."
From the test to production, the technology, and how they were able to capture it, only got better.
The Camera Used For De-Aging Shots Was Called The "Three-Headed Monster"
Using digital technology to alter an actor's appearance isn't new. But Scorsese was not going to put his actors in motion-capture suits, with a bunch of dots on their faces the sizes of golf balls, as he described it, saying it would be in their way. So instead, Helman and the visual effects team developed a camera they dubbed the "three-headed monster."
The setup used for the de-aging effect was comprised of three cameras, the main camera and what Helman called "witness cameras," which were infrared cameras. These witness cameras (on the right and left of the main camera) would capture specific information about the image's lighting from four markers on the actor's heads only able to be picked up by infrared.
There wasn't just one three-headed monster on set either. Scorsese wanted to shoot with multiple cameras. Despite the connotation, the cameras were crafted so that, as cinematographer Rodrigo Prieto recalled, they were pretty much always shooting with two of these cameras on set, "at least."
Bobby Cannavale Was Star-Struck By His Irishman Co-Stars
Bobby Cannavale didn't join the cast of The Irishman as a doe-eyed, young actor new to Hollywood. Cannavale has worked with the likes of Paul Giamatti, Cate Blanchett and The Rock. In fact, he had already been directed by Martin Scorsese (HBO's Vinyl) and starred alongside Al Pacino (Danny Collins). But even he couldn't help but be in awe, particularly with De Niro and Pesci.
Ray Romano told a story in the Criterion documentary of one scene that he and Cannavale shared across from these acting legends:
Sometimes, even well-known actors, have to pinch themselves, I guess.
Al Pacino Would Listen To Jimmy Hoffa Speeches Before Scenes
Many actors have different processes when they are playing real people and whether they want to meet them or not. Al Pacino seems to fall in the latter camp. He told interviewers that he found it valuable when playing real-life figures in the past (like Frank Serpico or Jack Kevorkian) to meet with them and create a connection. However, when playing Jimmy Hoffa in The Irishman that obviously was not a possibility. So how did Pacino help build his portrayal?
Ray Romano once again had the behind-the-scenes nuggets. Romano noticed that Pacino would wear headphones before the cameras rolled on a scene. Romano said that when doing more dramatic roles he likes to listen to music to get him in the proper mood, so he asked Pacino what he was listening to. Pacino told him it was recorded speeches that Hoffa made throughout his life, and he would listen to them right up to action.
Scorsese Chose To Reuse A Diner From Goodfellas For Irishman Scene
Sometimes you can go home again, or in this case back to a diner that you already immortalized in another gangster film nearly 30 years prior.
When shooting a diner scene between Robert De Niro and Paul Herman, the production design team assumed the Goodfellas diner was off limits for The Irishman. But after showing Scorsese a multitude of options, he basically said the diner in Goodfellas was great, can they just shoot there?
One thing that Scorsese did not know when returning to the diner was that it had been renamed to the Goodfellas Diner. No word as to whether it is now called the Goodfellas/Irishman Diner.
The Irishman is available to watch on Netflix. Check back with CinemaBlend on updates to Scorsese's next film, Killers of the Flower Moon.
D.C.-based cinephile. Will dabble in just about any movie genre, but passionate about discovering classic films/film history and tracking the Oscar race.
Your Daily Blend of Entertainment News
Thank you for signing up to CinemaBlend. You will receive a verification email shortly.
There was a problem. Please refresh the page and try again.