Video Interview: Margin Call Star And Producer Zachary Quinto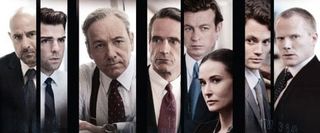 It's tough enough wearing one hat on a film set, but now, seemingly more than ever, actors are donning two or more, whether it be both actor and producer, actor and director or just about any combination of titles for that matter. In Zachary Quinto's case, he starred in and produced Margin Call via his company, Before the Door.
Quinto is Peter Sullivan, a young analyst in a New York City investment bank's risk management department. When his boss, Eric (Stanley Tucci) gets the boot amongst many of his co-workers during a mass downsizing effort, Eric leaves an unfinished project for Peter. Turns out, the companies job cuts are the least of its problems. When Peter fills in the holes of Eric's work, he discovers an error that could not only bring the company down, but the whole economy.
While J.C. Chandor's script certainly resonated with Quinto and his team at Before the Door when they first took it on and still when they shot the film about a year and a half ago, it was a bit up in the air in terms of whether or not Margin Call would still be relevant when it finally hit theaters. Well, the time has come and courtesy of Occupy Wall Street, not only was Quinto's first instinct justified, but now he's got one of the timeliest films possible.
In honor of that October 21st release, Quinto took the time to run through the details from the very beginning and taking on Chandor's script to attracting top notch talent and then having to switch gears and pull the reins on the producing to focus a bit more on his work as an actor. Hear it all for yourself and much more straight from the man himself in the video interview below.
Staff Writer for CinemaBlend.
Your Daily Blend of Entertainment News
Thank you for signing up to CinemaBlend. You will receive a verification email shortly.
There was a problem. Please refresh the page and try again.