Video Interview: Saoirse Ronan On Fighting Dudes And Being A Regular Teen In Hanna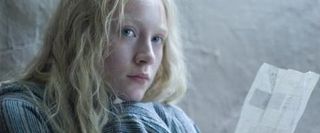 The best of this weekend's new releases by a mile is Hanna, the Joe Wright-directed new thriller that turns the spy story on its ear by following a ruthless but naive teenage girl trained as a killer since birth. The movie is beautifully directed and shot, as we all expect by now from Wright, but the key to Hanna's success is obviously Saoirse Ronan, the actress who turns 17 on April 12 and was nominated for an Oscar for her role in Wright's Atonement. As Hanna she is asked to engage in hand-to-hand combat against Eric Bana, field dress a reindeer on a snowy frozen pond. outrun a team of trained CIA officers, and maybe most intimidatingly, lean in tenderly for what might be Hanna's first kiss.
As the centerpiece of the film Ronan must be fearless, kind, lonely, curious and amazingly athletic, a challenge she apparently took to with enthusiasm and ease. I talked to Ronan in New York earlier this week and was as amazed by her in person as I am at the movies; she's as open and friendly during an interview as she is committed and sometimes terrifying onscreen, happy to talk about her experience in hand-to-hand combat training, her working relationship with Joe Wright, and how her career brought her back to the same dusty Morocco town twice in one year. And yes, the interview opens with our conversation about my $5 scarf, because what better way to start an interview than with some girl talk?Check out my video interview with Ronan below, and please do yourself the favor of seeing Hanna this weekend.
Your Daily Blend of Entertainment News
Staff Writer at CinemaBlend