Video Interview: Welcome To The Rileys Director Jake Scott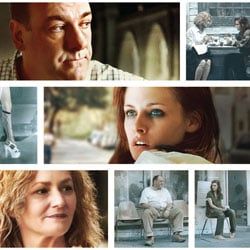 Director Jake Scott has pressure coming from all sorts of angles when it comes to his new film Welcome to the Rileys. Not only does he have the Scott legacy to live up to (he's Ridley Scott's son), but he also has to get himself out of music video mode and ready to make a feature film. It's been over ten years since Scott's last feature, Plunkett & Macleane, and he sure chose a tough script for his return to the big screen.
In Welcome to the Riley's James Gandolfini stars as Doug, a man struggling to cope with the death of his daughter. While on a business trip to New Orleans, Doug opts to ditch the convention for a strip club and that's where he meets Kristen Stewart's character, Mallory. Rather than getting down to business, Doug takes Mallory home and volunteers to clean up her place. He gets so enraptured by his relationship with Mallory, he almost completely forgets about his wife (Melissa Leo) back home, that's until she decides to come and see what he's up to.
Clearly this is a rather unique family drama and that's exactly what attracted Scott to the script, the chance to conduct an emotional investigation. In fact, Scott spent a significant amount of time preparing the film alone, really thinking through the piece and dissecting the characters' layers. Check out everything Scott had to say about the pre-production process, working with three top-notch actors and much more in the video interview below.
Your Daily Blend of Entertainment News
Staff Writer for CinemaBlend.
Your Daily Blend of Entertainment News
Thank you for signing up to CinemaBlend. You will receive a verification email shortly.
There was a problem. Please refresh the page and try again.