Voice Cast Set To Return For How To Train Your Dragon Sequel In 2013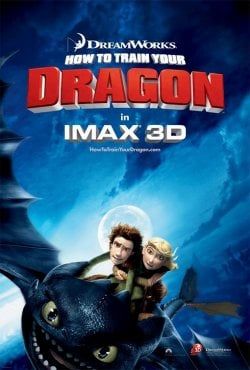 Talk of a sequel to DreamWorks Animation's How to Train Your Dragon has been floating around at least since last April, when the film was tearing up the box office and getting people to wonder if DreamWorks really could surpass Pixar for the highest quality animated films in Hollywood. A sequel was a no-brainer than as it is now, and now the studio has finally gotten around to giving us some early details about the project.
According to this press release (via Slashfilm), all the major vocal talent from the first film-- including Jay Baruchel, Craig Ferguson, Jonah Hill, Christopher Mintz-Plasse, America Ferrera and Kristen Wiig-- are returning, with Dean DeBlois taking over as both writer and director after co-directing the first film with Chris Sanders (Sanders is still on board as executive producer). Here's what DeBlois had to say about the project:
As previously planned the film will be released in 2013 and in 3D, which shouldn't worry you given how stellar the 3D on the first film was. With Kung Fu Panda: The Kaboom of Doom hitting theaters next year DreamWorks is slowly building up a slate of franchises that, so far at least, don't make us regret jumping on board the way we did with Shrek. Expectations are going to be seriously high for the Dragon sequel given how excellent the first one was, but if these guys really are the new Pixar, they're more than capable of topping themselves over and over again.
Staff Writer at CinemaBlend
Your Daily Blend of Entertainment News
Thank you for signing up to CinemaBlend. You will receive a verification email shortly.
There was a problem. Please refresh the page and try again.