Wachowski Brothers Are No More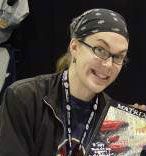 Are you a fan of the Wachowski Brothers? Hey, who isn't. Even if you hate the sequels, The Matrix alone justifies loving the heck out of the brothers. One problem for you though: they no longer exist… sort of.
It's no secret that Larry Wachowski, one half of the Matrix creating duo of Andy and Larry Wachowski, has long had a fondness for wearing dresses. Well it seems that over the past few years he's been undergoing gender reassignment therapy and now according to Rated-M it's finished. Larry Wachowski is now Lana Wachowski and from now on when Andy and Lana work together they'll be credited only as "The Wachowskis".
An official announcement is expected after the release of their next movie Speed Racer, since Warner Brothers is likely nervous about potentially negative public reaction to Lana affecting their take. It should be easy to keep her under wraps, since the Wachowskis are notoriously reclusive anyway. It will not however, be easy to stop saying Wachowski Brothers. Sorry in advance Lana. You'll probably always be Larry to us.
Your Daily Blend of Entertainment News