Wait, We're Getting Another Robin Hood Franchise?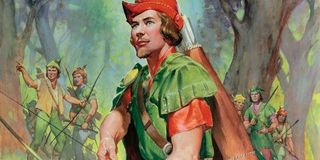 Who knew that Robin Hood was still so popular? Less than five years after Ridley Scott and Russell Crowe collaborated on their own version of the heroic outlaw and just a few months after Sony purchased their own script based on him too, Disney announced that they've purchased another Robin Hood spec script.
According to Deadline, Disney has purchased Brandon Barker's spec script Nottingham & Hood, which has been described as a revisionist take on the Sherwood Forest legend. It's been alleged that the intended blockbuster has the same tone as Pirates Of The Caribbean, and the studio is quietly confident that it can blossom into a fully-fledged action-adventure franchise that also fits in with Disney's global brand.
Andrew Rona and Alex Heineman are the duo who will produce Nottingham & Hood through The Picture Company. This is actually Brandon Barker's first ever screenplay. Well, the first he's sold. I imagine that he gave another few scripts a whirl before deciding to proceed with his take on Robin Hood. Disney's Nottingham & Hood will face stiff competition from Hood, Sony's own interpretation of Robin Hood which the studio actually intends to turn in to a series of films that revolve around the legendary thief and his merry posse. Whoever actually releases their movie first will have the upper-hand in this titanic cinematic tussle. In fact if either Hood or Nottingham & Hood manages to enter production way before its rival then it will be interesting to see if the other movie actually decides to proceed at all. That's because the trailing studio will be fully aware that the first of these films to be released will suck all of the anticipation and excitement from the other.
But which potential Robin Hood franchise shows the most potential? At the moment, information on Hood and Nottingham & Hood is still at a bare minimum, but I'd have to side with Disney. Sony's Hood sounds incredibly ambitious. As Cinema Blend reported back in October, Hood will allegedly build its own cinematic universe in the same way that Marvel did with The Avengers. This means that they plan to focus individual films on the likes of Little John, Friar Tuck, and Will Scarlett. While the tone of these adventures, Mission Impossible meets Fast & Furious, sounds intriguing, I'm just not sure that the audience is there for these characters. Plus there's Sony's diabolical track-record with franchises. They only have Spider-Man and Men In Black in their ranks, and they have both been mishandled terribly, suggesting that there is every chance they will fail to find the true potential of Hood too.
Meanwhile Disney knows exactly what to do when it comes to releasing a franchise. Not only do they have the Pirates of the Caribbean series, but they also own The Avengers, Toy Story and Star Wars franchises too. Will Nottingham & Hood spark another successful glut of films for the studio? It's still too early to tell. But if it doesn't succeed at Disney, it probably wouldn't have succeeded anywhere.
Your Daily Blend of Entertainment News