The Walking Dead's Sarah Wayne Callies Cast In Found-Footage Tornado Movie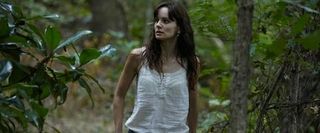 Sarah Wayne Callies has plenty of experience playing characters in life-or-death situations. Not only is she currently playing the role of Lori in AMC's zombie-themed horror/drama The Walking Dead, but she played the female lead in Fox's action/drama Prison Break. Her experience in both shows may serve her well in the feature role she's been cast.
Deadline has reported that Callies is set to join New Line's untitled Steve Quale found-footage tornado thriller. She'll play the role of Allison Stone in the film, which was at one time titled Category 6 (or Category Six as IMDB has it listed). The movie follows a group of high schoolers in the aftermath of a terrible tornado. Deadline doesn't specify the nature of her character, but thrillers seem to suit Callies well, so this seems like a good fit for her in the way of feature roles.
One might surmise that Callies' casting in this project might mean Lori is on her way out of The Walking Dead, and I wouldn't exactly be complaining if that were the case. I'm not a fan of Lori, and she wouldn't be the first major character to meet their demise not long after word got around that the actor who played them had been cast in something else (link hints at a major spoiler regarding Season 2 of TWD). And as TWD has proven, with past characters - both beloved and less-adored - no one is really safe on a show set in the aftermath of a zombie apocalypse. But Deadline squashes that speculation by stating that Callies is not leaving The Walking Dead. She will continue on playing Lori while also participating in this film.
Your Daily Blend of Entertainment News
Thank you for signing up to CinemaBlend. You will receive a verification email shortly.
There was a problem. Please refresh the page and try again.