Want To Drink Cocktails And Shoot Arrows At Your Hunger Games Screening? Go Here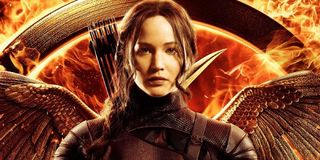 Who doesn't want to have Hunger Games-themed cocktails and embrace their inner Katniss with a bit of archery in preparation for the release of the worldwide sensation's latest installment? Well, thanks to one innovative movie theater chain, you can do both without risking the intervention of loved ones or police officers.
Variety reports Alamo Drafthouse Cinemas is celebrating the release of The Hunger Games: Mockingjay - Part 1 with contests and cocktails. Visitors to their chains will have the chance to really indulge in the world of Suzanne Collins' books with an array of treats and activities. Aside from a sure-to-impress costume contest, Alamo offers laser tag and an archery tag contest where competitors dodge (rubber) arrows. Custom Hunger Games pins and white roses (a la President Snow) will be handed out. And their menu will feature such special theme snacks as chili cheese fries with lamb and beef (not sure what that has to do with The Hunger Games, but it sounds tasty) and a Tracker Jacker Venom drink that contains vodka, ginger beer and berry liqueur.
Essentially, Alamo realizes that this hotly anticipated sequel to The Hunger Games: Catching Fire is going to be big. And they want to make seeing The Hunger Games: Mockingjay - Part 1 all the more memorable for being seen in their theaters. Alamo Drafthouse director of programming and promotions Sarah Pitre explains:
But Alamo isn't the only theater chain bringing their A-game for The Hunger Games: Mockingjay - Part 1. Cinepolis will offer a special "Mockinjay" cocktail that blends whiskey, lemon juice and sparkling apple cider. And for kids, their Rancho Santa Margarita location will hold a costume contest and face-painting.
And for those who are looking to revisit the first two films in The Hunger Games franchise before seeing The Hunger Games: Mockingjay - Part 1, Regal, Cinemark and AMC are happy to oblige, offering marathon screenings that lead right up to the new movie's debut. So, there's a slew of ways you can choose to celebrate the return of Katniss Everdeen to the big screen. Like, how about watching the movie's amazing trailer once more?
The Hunger Games: Mockingjay - Part 1 opens Friday. For more, check out our exclusive interview with Sam Claflin and Jeffrey Wright.
Staff writer at CinemaBlend.
Your Daily Blend of Entertainment News
Thank you for signing up to CinemaBlend. You will receive a verification email shortly.
There was a problem. Please refresh the page and try again.