War Horse Cinematographer Janusz Kaminski On Working With Spielberg And The Death Of Film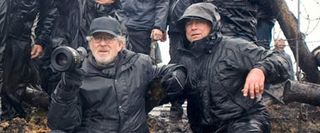 The irony of what I was doing only occurred to me as I sat down at the table opposite Janusz Kaminski, the two-time Oscar winning cinematographer behind masterpieces like The Diving Bell and the Butterfly, Schindler's List and now War Horse. I had asked to record the interview with a Flip cam, as I often do, and when I started setting up the camera I told Kaminski he was nicely lit… to which he responded "Of course."
Well, yeah-- of course Janusz Kaminski knows the best place to sit in a room for good light, because Kaminski knows everything about cinematography, including that a Flip cam interview was going to look like complete garbage compared to what he's capable of recording. But he was game anyway, talking to me in the 11-minute interview below about the close relationship he and Steven Spielberg have developed over the years, what a typical "Janusz Kaminski" shot would look like, and how the advance of digital photography is affecting him, even though he's resolutely sticking with film for now. Check out the interview below, and do yourself the favor of checking out Kaminski's gorgeous, classical work on War Horse-- in a career full of amazing work, this is easily one of the highlights.
Staff Writer at CinemaBlend
Your Daily Blend of Entertainment News
Thank you for signing up to CinemaBlend. You will receive a verification email shortly.
There was a problem. Please refresh the page and try again.