Was Watchmen's Fate Decided At The Golden Globes?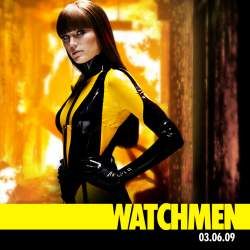 The New York Times Carpetbagger blog is usually the source for awards show gossip and prognostication, but the sharp-eyed reporter Michael Cieply is by no means blinded to the rest of the industry. So he used the opportunity of last night's Golden Globes to notice what might be another good sign for the ongoing Watchmen saga.
Cieply wrote, "That sure looked like Tom Rothman of Fox and Alan Horn of Warner Brothers down among the superstar seats, smiling and back-patting — each other, not the superstars — just before the show began." What?? You mean the two studios haven't been trapped in hermetic bubbles, communicating only via passive-aggressive swipes and maybe car bombs? Cieply continues, "A public display of affection between studio chiefs, along with those pricey Watchmen ads on the National Football League playoff games this weekend, would add up to a message as big as the Hollywood sign: The talks between hitherto warring Fox and Warner over a settlement of Fox's lawsuit over rights to Watchmen must be on track. "
While this is, of course, just one observation of two old dudes in suits, I think Cieply's probably right. The studio chiefs more than anyone have a lot to gain by working this out amicably, and this public display of affection was no doubt intended as a sign of some kind, even if was only to tell their lawyers "Get it together and solve this thing!" There's another hearing this afternoon, so maybe all this tea leaf reading will prove to have paid off.
Staff Writer at CinemaBlend
Your Daily Blend of Entertainment News
Thank you for signing up to CinemaBlend. You will receive a verification email shortly.
There was a problem. Please refresh the page and try again.