Watch The 10 Best Action Scenes of 2015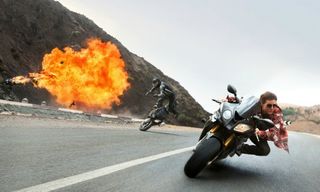 I'm actually going to remember 2015 as a spectacular year for higher-brow popcorn entertainment. Movies that placed an emphasis on set-piece construction and eye-popping visuals (movies like The Martian or Mad Max: Fury Road) are the same ones that are contending for year-end awards consideration. Audiences didn't have to turn their brains off during the summer blockbuster season. I mean, unless they were watching Fantastic Four.
Several key action directors were operating at the top of their game this year, which made the construction of our annual Action Scenes list both difficult and fun. Here, now, are the 10 best actions scenes from 2015, ranked from awesome (No. 10) to truly mind-blowing (No. 1 … which I still can't believe they pulled off). Added bonus? You can watch them, in all their glory, below!
10. The Ant-Man Train Fight
As every other superhero movie tries to go bigger (hello, Dawn of Justice), Peyton Reed's Ant-Man origin story made terrific use of its protagonist's unusual size. As Ant-Man (Paul Rudd) faced off against Yellowjacket (Corey Stoll) in the hero's daughter's bedroom, normal kid-sized toys assumed new dangers… making Thomas the Tank Engine into a legitimate threat. It's a great comedic beat, and an exciting fight/flight scene that barely rivals the briefcase fight set to The Cure. Great work, Peyton Reed. We're so happy you are coming back for Ant-Man and The Wasp.
9. Tom Cruise Catches A Plane
In a normal year, this scene would rank much higher. Seeing Tom Cruise dangling from the side of an Airbus A400M was a tantalizing way to kick off the fifth Mission: Impossible. It's exactly the type of impossible stunt we've grown accustomed to seeing Cruise pull off, and we're damn sure not trying to take him for granted. The only issue with the airplane stunt is that, while amazing, it's not even the most impressive action sequence in its own movie! So it gets downgraded ever so slightly. Read on to see which Rogue Nation sequence was better.
8. The Gyrosphere Becomes A Pinball
Jurassic World was a blockbuster filled with big ideas, but it lacked for memorable action set pieces. Indominus Rex was a terrifying creation, but director Colin Trevorrow took a page from Jaws by keeping the camouflaged beast in hiding for long stretches of the film. We got our best look at it when it finally emerged and attacked the visiting kids who were taking the park's Gyrosphere for a spin. And boy, did it spin! This was a sequence, again, that seemed to tap into the playful chaos that Steven Spielberg brought to two Jurassic Park movies. When I think of Jurassic World, I think of this memorable scene.
7. A Storm Descends On Mars
As we pointed out in our Best Villains of 2015 list, Mars is the real antagonist of Sir Ridley Scott's fantastic The Martian. The Red Planet stays one step ahead of man for pretty much the duration of the movie, making life VERY difficult for stranded astronaut Mark Watney (Matt Damon). But it's the harrowing storm that opens Scott's movie that showed audiences how harsh the environment was going to be in The Martian. This scene practically left Watney for dead. Practically…
6. Hulk v. The Hulkbuster Armor
Tony Stark (Robert Downey Jr.) knew this moment would come. One day, his pal Bruce Banner (Mark Ruffalo) would lose control over his furious alter ego, forcing Tony to don the aptly-nicknamed Hulkbuster armor. In Bruce's defense, Scarlet Witch (Elizabeth Olsen) is poisoning the scientist's mind, triggering the Hulk's fierce rampage. Still, tell THAT to the people of Africa, who see their homes and buildings destroyed by the earth-shattering battle between two mighty Avengers. Do you think there will be fallout from this fight in Civil War? Possible, but at least Joss Whedon delivered on what he promised when he pit Tony against Bruce.
5. The Millennium Falcon Outraces Phasma's TIE Fighter
Fan service? You bet. But try to tell me that your pulse didn't race once Rey (Daisy Ridley) and Finn (John Boyega) boarded the "garbage" ship in an effort to protect BB-8 and outrun a swarm of invading TIE Fighters. Even though we'd been seeing the Falcon as part of the Star Wars marketing machine, the choreographed space race between the classic ship and the First Order's goons was the perfect combination of high-tech special effects and old-fashioned sci-fi nostalgia. The John Williams score was the icing on the cake.
4. The Church Fight From Kingsman
Honestly, Colin Forth, we never thought you had it in you. That's what made Kingsman: The Secret Service such a deliciously nasty treat. Director Matthew Vaughn took a lot of what we lazily accepted from the spy genre and flipped it on its ear. And much of that role-reversal hinged on this signature scene, where composed (but still lethal) secret agent Harry Hart – under the influence of the villainous Valentine (Samuel L. Jackson) – mows down a church-load of "sinners" in one continuous, bloody motion. Setting this blistering, visceral fight scene to Freebird helped it break the Top 5 of this list.
3. The Parachute Drop from Furious 7
You knew the Fast & Furious crew had to show up on this list at some point. But instead of Dom (Vin Diesel) jumping between skyscrapers in the desert, I went with the insane parachute drop that Furious 7 director James Wan choreographed, which saw the team dropping out of an airplane, parachuting down onto a narrow mountain road, infiltrating a moving bus, extracting a female target, and escaping the scene… all while being shot at by the enemy. And yet, almost everything that happens in this scene at least looks somewhat POSSIBLE. Movie magic.
2. Ethan Hunt Borrows a Motorcycle
This scene actually begins with a car chase. Strike that – this scene begins with Ethan Hunt (Tom Cruise) infiltrating an underwater chamber so he can trade out a sim card allowing Benji (Simon Pegg) to extract data. But after the tank (which itself is a thrilling sequence), Ethan embarks on car chase, which transitions into an edge-of-your-seat motorcycle chase… because Christopher McQuarrie's a damn genius. Speaking of, whoever fought to bring McQuarrie back for Mission: Impossible 6 has brains, because sequences like this prove the man has the absolute goods.
1. The Final Car Chase In Mad Max: Fury Road
Honestly, this top slot could be "The entirety of Mad Max: Fury Road" and I don't think action junkies would complain. Even the clip above is only one part of six or seven segments needed to capture the full domain of the ridiculous action that director George Miller put to film when reviving his dormant Mad Max franchise. Practical effects returned to the forefront this year in movies like Star Wars, Mission: Impossible and Furious 7. But the work that Miller and his crew did on Fury Road will be the stuff of legend, and that's why it's tops on this year's list.
This poll is no longer available.
Movie junkie. Infatuated with comic-book films. ReelBlend cohost. Resident dad. Extroverted introvert. Wants to see the Snyder Cut. Managing Director at CinemaBlend.
Your Daily Blend of Entertainment News
Thank you for signing up to CinemaBlend. You will receive a verification email shortly.
There was a problem. Please refresh the page and try again.