Watch The Hysterical Love Actually Spoof That SNL Had To Cut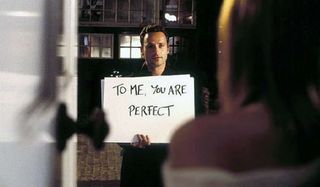 Last weekend's Saturday Night Live featured an array of Christmas sketches including the host, Amy Adams. And as it goes, some sketches make the cut to be shown on air, and some only go so far as dress rehearsal. But thankfully, SNL posted one of their unaired sketches that is just too good to miss. Watch their hysterical spoof of the cue-card scene from the Christmas-classic, Love Actually:
Nothing says Christmas like rewatching the famous British romantic comedy, Love Actually. With that time of the year upon us, the film will fill up thousands of TV and computer screens to watch a star-studded cast feel Christmas in their toes. So of course, SNL took the opportunity to remake one of the more memorable scenes in the movie.
Before Andrew Lincoln was killing walkers on The Walking Dead, he was a baby-faced sweetheart, confessing his love to his best friend's wife played by Keira Knightley. He pines for her, and like some of the other love stories in the film, he becomes sick with his emotions. When he goes to confess his love to the wife, he does so on Christmas, because he believes it is a time for truth. But he has to do so quietly since his friend, and her husband isn't too far from the encounter. Here's the original scene from the film:
The SNL parody uses similar cue cards and starts with the "Say it's Carol Singers" cue card paired with the same musical soundtrack. The scene is perfect to create a parody out of. Add in Amy Adams trying to hold back her own laughter, and goofy-looking Pete Davidson trying to woo her with hot dog talk, and praise of her "butt" and "juggs" and you've got an SNL winner. So why cut it? Well, it was pretty long. And there were some seriously unnecessary cards including some #humblebrags, dancing skeletons, and some peeping-Tom references. And at over four minutes of card-turning, what's most impressive is how Pete Davidson never gave away their heaviness.
Despite the lengthiness of the skit, and some of the more unnecessary references, the ending sums it all up perfectly. Davidson asks, "So what do you say, Amy? Are you D.T.F?" Love Actually is a movie for hopeless romantics. So SNL does what they do best and takes one of the most romantic and thoughtful scenes in the movie, and turns it completely upside down into a modern, more-realistic, and dirty reenactment. Because while girls would love to have Andrew Coleman and their door confessing his love, a creepy dude wanting to get into their pants is far more likely (and hysterical).