Watch Jason Segel Perform Sarah Marshall's Vampire Rock Opera Live!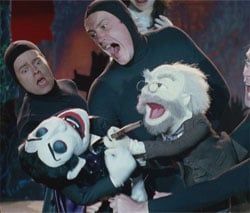 If you've seen Forgetting Sarah Marshall then you know that the best thing in, what is easily one of the best movies of the past few years, is Jason Segel's brilliantly performed, all-puppet vampire rock opera at the end of the film. And now it seems he's taking the show on the road.
Late night television show Craig Fergusen has a thing for puppets and last night he had Segel on to perform, live, his character's signature puppet number from Sarah Marshall. In the video below you'll see Segel on stage with a Dracula puppet, performing a hipped up, rocked out version of "Dracula's Lament". I still prefer the version used in the movie, you can't beat those closing moments when Dracula moans "Die! Die! Die." But there's something hilariously fun in watching Segel perform it live. The look in his eyes is one of sheer joy, and that alone is enough to make this worth watching. This guy knows his way around a Muppet, which should mean good things for The Cheapest Muppet Movie, which, he's in charge of writing. Watch "Dracula's Lament" live!
Your Daily Blend of Entertainment News