Watch: Mads Mikkelsen Goes West In 'The Salvation' Trailer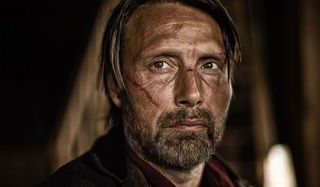 Danish actor Mads Mikkelsen is best known Stateside for playing the Bond villain Le Chiffre in Casino Royale and the cannibalistic Dr. Hannibal Lecter on television's Hannibal. More traditional hero roles come to him in his homeland, where he's fronted such acclaimed dramas as Suanne Bier's After The Wedding, the gorgeous historical romance A Royal Affair, and the Academy Award-nominated The Hunt. But now this Dane will take on the most American hero archetype with a new western, The Salvation. And you can get a taste of its tension in the above trailer.
Directed by Danish filmmaker Kristian Levring, The Salvation is a co-production between Denmark, the United Kingdom and South Africa. And as you can see above, it has portions in English and Danish. But the screenplay by Levring and Anders Thomas Jensen is devotedly American Western, from its take of revenge, a rebellious cowboy, a desert setting and brutal gun fights.
Mads Mikkelsen stars as John, a Danish immigrant who came to settle in the West in 1870s America. So certain of a brighter future was John that he brought his wife and child over from Denmark, only to have their stage coach highjacked, his wife raped, and his family murdered. Left with nothing but his grief and skills as a marksman, John seeks vengeance. When this brings the wrath of a notorious gang, John stands up to stop the evil men who would tear his new homeland to pieces. Eva Green, Jeffrey Dean Morgan, Jonathan Pryce, and Mikael Persbrandt co-star.
Admittedly, you might not have garnered all this from the trailer above.The Salvation's premise is solid, and its cast is terrific. But its first trailer leaves something to be desired. It teases a dark tone and some spectacular cinematography. It shows off its stars and their gruesome scars, hinting to the movie's gruff nature. But the edit is bungled, making unclear who is fighting and over what. How exactly Eva Green's Madelaine factors into the plot is murky at best. But the audio mix here is most vexing. The music is so loud that it drowns out some of the dialogue, further muddying the waters of the movie's plot.
Nonetheless, I'm looking forward to The Salvation. Frankly, I'll see anything Mads Mikkelsen fronts, as he is a mesmerizing performer whether he's in an understated family drama or a flashy espionage thriller. Eva Green and Jeffrey Dean Morgan give additional dazzle to the production, as each has proven to be an outstanding character actor who brings panache to whatever project is lucky enough to have them. Encase them all in the intense atmosphere of a Western, and I'm all in. How about you?
This poll is no longer available.
Poster courtesy of The Playlist
The Salvation will make its world premiere this month at the Cannes Film Festival. A theatrical release will follow in Denmark on May 22nd. No U.S. release date has yet been established.
Your Daily Blend of Entertainment News
Staff writer at CinemaBlend.