Watch Zack Snyder Arrive At Comic-Con In The Batmobile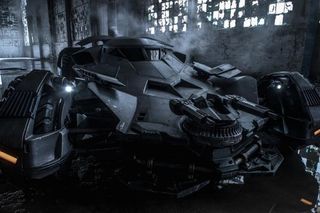 When you've got access to a Batmobile, you better be taking advantage. And what better opportunity than to show up to Comic-Con riding in style. Batman V Superman: Dawn of Justice director Zack Snyder did just that when he showed up to the San Diego Comic Convention riding his latest iteration of the Batmobile. Check it out.
But the fun didn't stop there. Not only did Snyder give fans an up close and personal viewing of the badass Batmobile, but he also pulled up right outside Hall H and handed out t-shirts. It was an interactive and epic event, that any fan of the franchise would be disappointed to miss. But at least we have some fellow fans taking photos to kindly share (or more likely rub in our faces).
Dawn of Justice gave us our first look at the new Batmobile more than 10 months ago. Like a mashup of Tim Burton's stylish sports car version with the newer Tumbler from Christopher Nolan's Trilogy, the photo of the new ride was enough to give us goosebumps. For it's not a Batman film without a killer Batmobile. Then in the first teaser trailer, we got to see the vehicle in action for a quick moment. But to see Zack Snyder pull up to Comic-Con, may just be our most exciting view yet.
Today Warner Bros. is holding a panel at Comic-Con that is sure to bring plenty of Batman v Superman surprises. Word on the street is that the heavily-hyped film will be releasing its second trailer, with a bunch of never-before-seen footage. It would be especially fitting to get some more shots of the Batmobile in action during this trailer, especially given fans good look at it in front of Hall H. But be sure to stay tuned here at Cinema Blend for all the latest news from this year's Comic-Con and all the exciting goodies it brings.
Your Daily Blend of Entertainment News
Your Daily Blend of Entertainment News
Thank you for signing up to CinemaBlend. You will receive a verification email shortly.
There was a problem. Please refresh the page and try again.